Let Me.. Sing Again - Live Double CD
The MxF label has released its new second special product called "Let Me.. Sing Again featuring Elvis' Dinner and Midnight show from August 25th, 1973.
These recordings are taken directly from a first generation of original tapes.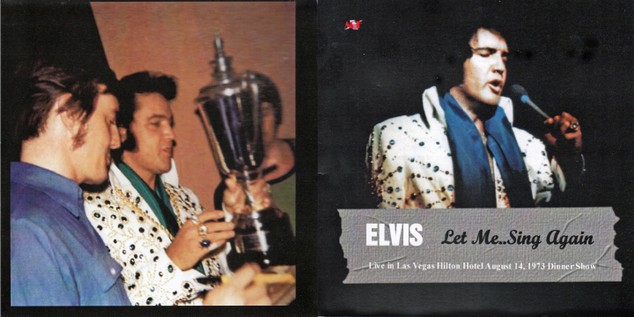 The afternoon show is previously unreleased show, the evening show previously released here is presented in a very improved audio-quality.
August 1973, Elvis Is back for his last summer season..The 1973 was begun in the better way, with the Aloha special at least commercial talking…But the things turned immediately toward the wrong direction..the man had too weight to bear in his human shoulders... But as always for Elvis the music keeps his mind alive and overall active..so the best moments of our man is when He is on the stage..The August 1973 is no exception..>>
The August 25 present Elvis in positive mood , both the shows are solid and well performed...Elvis deliveries some killer version of My Boy and You Gave Me a Mountain, keeping steady part of the show the two classic Suspicious Minds and Bridge Over Troubled Water and delighting the audience with the sensitive The First Time Ever I Saw Your Face and rocker&blues latest single Steamroller Blues.
The sound is very good for an ambient recording, We have on our hands the original mono tape of extremely good quality enabling us to carry out a simple re-mastering work, concentrating on the reduction of noise trying to achieve a more clear sound balancing the channel and put at the right speed the tape. The result a pretty dynamic tape with a great definition of the background music and for sure you can live the atmosphere of a Elvis' concert in the seventy.
CD 1 time about 54.00 min
Tracklist:
LAS VEGAS August 25, 1973 DS Previously Unreleased
01.2001 Theme 02.See See Rider 03.I Got A Woman/Amen 04. Love Me 05. Steamroller Blues 06.You Gave Me A Mountain 07. Blue Suede Shoes 08.Rock Medley 09.Love Me Tender 10. Fever 11. Bridge Over Troubled Water (+ reprise) 12. Suspicious Minds 13.Band Introductions 14.Release Me 15. Teddy Bear/Don't Be Cruel 16.An American Trilogy 17.A Big Hunk O Love 18. Heartbreak Hotel 19.The First Time Ever I Saw Your Face ( missing some seconds at the begin) 20.Can't Help Falling In Love 21.Closing Vamp
CD 2 time about 55.00 min
LAS VEGAS August 25, 1973 MS
01.2001 Theme 02. See See Rider 03. I Got A Woman/Amen 04. Love Me 05. Steamroller Blues 06. You Gave Me A Mountain 07. Blue Suede Shoes 08.Rock Medley 09. Love Me Tender 10. Fever 11. What Now My Love 12. Suspicious Minds (missing last seconds) 13. Band Introductions 14. My Boy 15. I Can't Stop Loving You 16. An American Trilogy 17. Release Me 18. It's A Matter Of Time 19. Elvis introduces Dee and Vernon Presley 20. The First Time Ever I Saw Your Face 21.Bridge Over Troubled Water 22.Can't Help Falling In Love 23.Closing Vamp