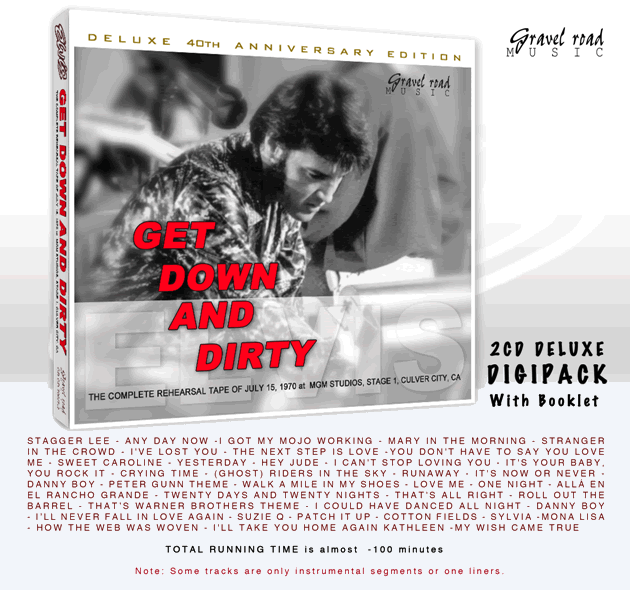 The Get Down And Dirty rehearsal CD release is mind blowing. Gravelroad nailed it. The balance and sound is just great. Very well balanced sound, not from various sources and in stereo. Even the mike trouble is solved, and that was a technical problem of the enigneer in 1970! The missing 24 minuts are in place and finally I can play it without skipping the parts which were too painfull to my ears. They give us more complete recordings in better sound, a re-releases but they make it worth to replace the old one. Gravelroad is Premium Quality. The three panel box carries the 2 CDs that are printed like a tape reel, and are called Reel 1 and Reel 2. Behind the CDs there are two great close-up shots of our man during the rehearsal.
Get Down And Dirty: Rehearsal, 15 July, 1970 Culver City, LA
This deluxe, double CD pack with booklet is the third Gravelroad Music (GRM) release spotlighting Elvis Presley's wild rehearsals in the summer of 1970, filmed for the MGM documentary 'Elvis: That''s The Way It Is'.
Fort Baxter and Gravel Road will again join forces for this re-issue.
Get Down And Dirty will feature no less than 24 minutes extra from this July 15, 1970 studio rehearsal which was not made available before by Fort Baxter. The double CD will have a playing time of just under 100 minutes. The character of the rehearsal is different from the two previous acclaimed releases, 'The Brightest Star On Sunset Boulevard' (CD) & 'Plugged In And Geared Up' by GRM.
Its the second day of the rehearsal shooting, Elvis is studying songs, malfunctioning microphones, uncensored talking & singing. That's one of the reasons to rename this historical rehearsal 'Get down and dirty'.
Includes more than 25 minutes unreleased material! We advise you to, 'Get with it', it''s worth it!
Disc 1
01 Stagger Lee/Any day now 02 I Got my mojo working 03 Mary in the morning 04 I''ve lost you 05 I''ve lost you 06 Stranger in the crowd 07 The next step is love 08 You don''t have to say you love me 09 You don''t have to say you love me 10 You don''t have to say you love me 11 Sweet Caroline 12 Yesterday 13 Hey Jude 14 I can''t stop loving you 15 It''s your baby you rock it 16 Crying time 17 Riders in the sky / Surrender 18 Runaway 19 It''s now or never / Danny Boy 20 Peter Gunn theme
Disc 2
01 Walk a mile in my shoes 02 Love me 03 One night 04 Alla en el rancho grande / Twenty days and twenty nights 05 Thats''s all right 06 Twenty days and twenty nights 07 That''s all right 08 Roll out the barrel / That''s "Warner brothers"theme / I could have danced all night / Danny boy 09 Twenty days and twenty nights 10 Twenty days and twenty nights / I never fal in love again 11 Suzie Q 12 Patch it up 13 Cotton fields 14 Sylvia 15 Stranger in the crowd 16 Stranger in the crowd 17 Mona Lisa 18 How the web was woven 19 I''ll take you home again Kathleen / My wish came true