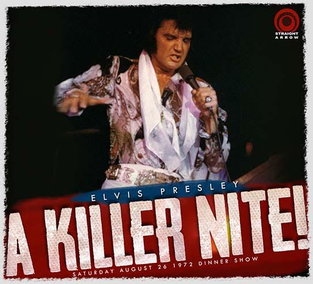 Elvis Presley - A KILLER NITE CD
Coming out soon is new Straight Arrow CD titled "A KILLER NITE", featuring the previously Elvis unreleased Las Vegas, August 26th, 1972 Dinner show. This recording is taken directly from a recently found original mastertape, as recorded by British super fan Rex Martin. This new source has never been in circulation. Of all the engagements that Elvis performed between 1969 and '76, there is no doubt that his Summer '72 season was one of his finest.
Not only that, but he was also operating on a consistently strong level, which is something that you can't even say about the Summer '70 one, which had its fair share of poor shows near the end of the engagement. He was in total command of his art, he looked fantastic and he sang like a bird. Each concert from this engagement is recommended listening for the true Elvis scholar. As usual, our new release is presented in Straight Arrow's standard deluxe digipack, designed with a collection of photos of Elvis, taken during Elvis' 1972 Las Vegas Summer Festival.
Tracklist:
01. Introduction: Also Sprach Zarathustra - 02. C. C. Rider - 03. Johnny B. Goode - 04. Until It's Time For You To Go - 05. You Don't Have To Say You Love Me - 06. Love Me Tender - 07. You've Lost That Lovin' Feeling - 08. Polk Salad Annie - 09. Instrumental Intermezzo / Monologue - 10. What Now My Love - 11. Fever - 12. Love Me - 13. Blue Suede Shoes - 14. Heartbreak Hotel - 15. All Shook Up - 16. Little Sister / Get Back - 17. Hound Dog - 18. I'll Remember You - 19. Walk That Lonesome Road (J. D. Sumner & Stamps) - 20. Suspicious Minds - 21. Introductions of singers, musicians, orchestra - 22. My Way - 23. A Big Hunk O' Love - 24. You Gave Me A Mountain - 25. Mystery Train / Tiger Man - 26. Can't Help Falling In Love - 27. Closing Vamp.