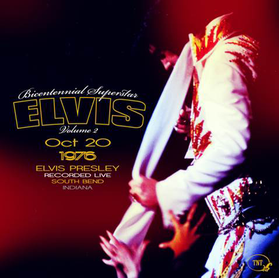 Elvis Presley - Bicentennial Superstar Elvis Volume 2 CD
Welcome to TNT Records' brandnew CD release, 'Bicentennial Superstar Elvis Volume 2'. Again with a little help from our friends at 'Audionics' - most likely THE premium and still active label when it comes to rare recordings in best possible sound - we decided to release Volume 2 of our very well received series 'Bicentennial Superstar'. It is going to be presented in our usual high quality standard. The recording is taken straight from the soundboard and there is a 16-page booklet containing all the information you need to know regarding the concert and the whole tour.
As we are aware from all the information we do have access to these days it was more than clear and also visible that Elvis actually should have cared a lot more for himself than for his fans. Although the 'King' at least tried to get back in shape and although he got rid of quite some weight since the last tour in early September ended it was a much too short 'Recovery' and Elvis stepped on stage looking not too good, showing a pale face and a not so well fitting haircut (of course we'd be more than happy if it was just for the haircut but it wasn't). Still the fans were loyal and came in masses. The Colonel also was happy to receive another share of 'big money' from touring all through the country. After all Elvis seemed to be an all-time-winner in terms of making money with performing that often in a year. Whatever it really was that kept Elvis doing show after show we still can only guess.
Nevertheless, the shows in October of 76 had their moments. Elvis changed his setlist from the months before slightly and for example put back a more than welcome 'Steamroller Blues' into it. He did at least what he had to do: Making his many fans happy. That didn't necessarily include all the reporters from the local newspapers who sometimes wrote some true words the fans did not want to read. But of course there still weren't that many really negative reviews of Elvis shows in the press. It was just a matter of time though ... . The show we are presenting on this release took place on Oct. 20, so Elvis was right in the middle of the tour. The 12.000 fans in the sold-out Notre Dame University Stadium in South Bend saw Elvis wearing the brightly coloured Flame Suit for the first time on stage. Fortunately this show was recorded from the soundboard in its entirety which is rather rare - there are too many SB's out there on the fan market that lack from starting with 'Love Me' or similar, many also do not have the last song(s) originally recorded. Sit back and enjoy experiencing Elvis in autumn of 76 singing some very good versions of songs like 'Steamroller Blues', 'Help Me' and a still strong 'America The Beautiful'!
Track listing
01. Also Sprach Zarathustra 02. See See Rider 03. I Got A Woman / Amen [medley] 04. Love Me 05. If You Love Me (Let Me Know) 06. You Gave Me A Mountain 07. Jailhouse Rock 08. Help Me 09. All Shook Up 10. Teddy Bear / Don't Be Cruel [medley] 11. And I Love You So 12. Fever 13. Steamroller Blues 14. Band Introductions 15. Early Morning Rain 16. What'd I Say 17. Johnny B. Goode 18. Drum Solo [Ronnie Tutt] 19. Bass Solo [Jerry Scheff] 20. Piano Solo [Tony Brown] 21. Love Letters 22. School Day 23. Hurt [with reprise] 24. Hound Dog 25. Funny How Time Slips Away 26. Little Darlin' 27. Can't Help Falling In Love 28. Closing Vamp & Announcements.