Elvis Presley - Louisiana Hayride Cradle Of The Stars DVD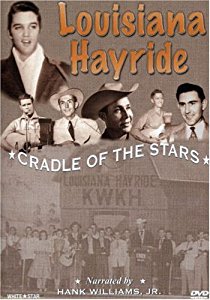 The Louisiana Hayride was a radio show that gave fresh talent a chance to perfect their distinct performance styles before a weekly live audience. During its heyday, between 1948 and 1958, "the Hayride" rivaled even Nashville's famed Grand Ole Opry in the number of country music careers that it spawned.
Country music star Hank Williams Jr. is the narrator of this fascinating country music documentary which explores the Shreveport, Louisiana musical roots of some of country music's most venerable stars, including Hank Williams Sr., Elvis Presley, Johnny Cash, Johnny Horton, George Jones and a host of others.
This unique program uses old photographs, film clips and live transcriptions of old radio show recordings to tell its entertaining and informative story.
Region: All Format: NTSC Running Time: 62 minutes Sound: Dolby 2.0 Picture: 4.3 Full Screen