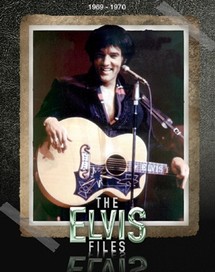 The Elvis Files Vol. 5 1969 - 1970.
580 pages & over 1,500 photos...
All ELVIS EVENTS in this Time Frame Period 1969-1970 are shown
- Every Working Moment...
- Every candid moment outside that Busy Elvis Schedule
-Elvis AT PLAY Images. - over 200 Newly Discovered - seen for the first time.
- All the Recording Sessions
- All the " Interviews"
- Elvis In Las Vegas his return to live performances
- The Tours of 1970 are showcased with Many Rare Pictures
-The Movies: Change Of Habit and That's The way It Is are covered in Great Details with lots of unseen photos.
This is a labour of love for Norwegian Erik Lorentzen, author and long time Elvis fan, who has found a ton of images and information never before published complete book on one DVD.