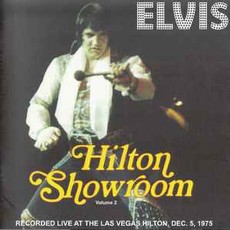 Elvis Presley - Hilton Showroom Vol. 2 CD
AudiRec proudly presents: Elvis - Hilton Showroom Volume 2. This CD includes an audience recording of the complete and so far unreleased performance from December 5, 1975 - only three days after the much acclaimed Opening Show of Elvis' December Las Vegas 75 Season. Includes a 16 Pages booklet.
It's been quite a few months since Elvis' unexpected break-up season of August 1975 and his fans didn't know what to expect from his return to the Hilton Showroom, although there were of course high hopes for a triumphant series of concerts. Also there were two things that immediately catched the eyes and the ears of fans and critics once the 'King' was back on stage in Las Vegas'Hilton Showroom: Elvis was noticeably heavier than ever before in his life and he was singing with a certain quality in his voice which was probably stronger than ever before! It's easy to say so even though audience recordings are mostly far from perfect when it comes to reveal details in a singer's voice. Elvis sang great in December of 1975 and once you get to hear songs like 'Just Pretend' or 'How Great Thou Art', but also 'Trying To Get to You', with this powerful magic of God's given talent in Elvis' Voice you will have to agree.
Please be aware that this new release is limited to 300 copies only! Be sure to get your copy if you are interested. Once you have it in your hands, we hope your spare time will allow you to sit back, put your headphones on and listen to the show from December 5, 1975. It's Las Vegas! It's the Hilton Hotel Showroom! It's ELVIS! Enjoy!
Hilton Showroom Volume 2 Hilton Hotel, Las Vegas, Nevada, 05-12-1975
Tracklisting:
5.12.1975 - Las Vegas, Nevada, Hilton Hotel
01. Orchestra Intro
02. Also Sprach Zarathustra
03. C .C. Rider
04. I Got A Woman / Amen (medley)
05. Love Me
06. Fairytale
07. And I Love You So
08. Trying To Get To You
09. All Shook Up
10. Teddy Bear / Don't Be Cruel (medley)
11. Blue Suede Shoes
12. Just Pretend
13. Polk Salad Annie
14. Band Introductions
15. Johnny B Goode (James Burton)
16. Drum Solo (Ronnie Tutt)
17. Bass Solo (Jerry Scheff)
18. Piano Solo (Glen D. Hardin)
19. School Day #1
20. School Day #2
21. It's Now Or Never
22. How Great Thou Art (with reprise)
23. One Night
24. Softly As I Leave You
25. America The Beautiful
26. Mystery Train / Tiger Man (medley)
27. Elvis talks
28. Can't Help Falling In Love
29. Closing Vamp