Green Peppers, Onions And Catfish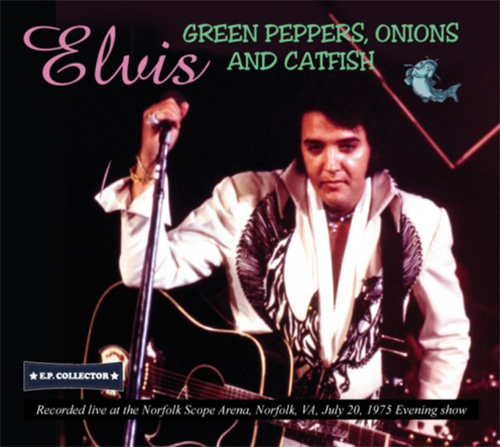 Our first new release is titled "GREEN PEPPERS, ONIONS AND CATFISH" (EPC 2019-21).
Now, while some of Elvis import labels are just repackaging and re-releasing old stuff, E. P. Collector label is coming with another surprise! The Norfolk, July 20th, 1975 8:30pm show is previously unreleased and it was never before available in complete form and in solid quality! There is an old CDR in circuit of absolutely horrible sound and moreover, it's missing the last couple of songs. Now is a good time to throw this one into garbage can and grab the ultimate version!
As almost every fan knows, Elvis' July '75 tour is rated as one of the best Elvis tours ever. The shows were longer and the playlists variable. Vocally, Elvis was in TOP shape. Two dynamic, rocking shows in Norfolk are no exception. Yes there was the (in) famous so called "catfish" incident - but, as usual, the whole story was exaggerated. Among the highlights there are "The Wonder Of You," "Polk Salad Annie," " T-R-O-U-B-L-E," "How Great Thou Art," and "It's Now Or Never." One song stands out - one of the very last performances of Chuck Berry's great "Promised Land."
This concert is taken from a recently found first generation copy of an original audience recorded cassette tape, recorded by a well known American fan. You may ask your supplier for samples.
This CD is packaged in a nicely designed digipack with collection of images taken by Len Leech in Norfolk, VA, 1975 E/S. It's our first 1975 release and we hope to bring you more!
Tracklist:
01. Also Sprach Zarathustra (2001 Theme) - 02. C. C. Rider - 03. medley: I Got A Woman / Amen - 04. "Catfish incident" - 05. Love Me - 06. If You Love Me (Let Me Know) - 07. Love Me Tender - 08. All Shook Up - 09. medley: Teddy Bear / Don't Be Cruel - 10. Hound Dog - 11. The Wonder Of You - 12. Polk Salad Annie - 13. Band Introductions - 14. Johnny B. Goode (James Burton) - 15. Drum Solo (Ronnie Tutt) - 16. Bass Solo (Blues - Jerry Scheff) - 17. Piano Solo (Glen D. Hardin) - 18. School Day - 19. T-R-O-U-B-L-E - 20. Why Me Lord? - 21. How Great Thou Art (with reprise) - 22. Let Me Be There - 23. Funny How Time Slips Away (with reprise) - 24. Little Darlin' - 25. medley: Mystery Train / Tiger Man - 26. It's Now Or Never - 27. Promised Land - 28. Can't Help Falling In Love - 29. Closing Vamp.