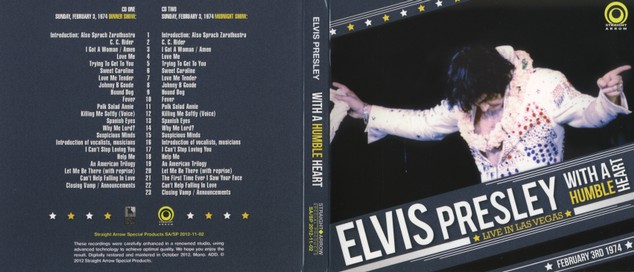 Sunday, February 3, 1974 Dinner and Midnight Shows, Las Vegas Hilton, Las Vegas, NV
Straight Arrow is continuing their popular collector's series of 2 shows from one evening, released in a single package. This time the producers have chosen two excellent performances from Sunday, February 3, 1974 at the Las Vegas Hilton.
On this collection there are worthy performances of revived songs like "Tryin' To Get To You", "Sweet Caroline" and a powerful "Polk Salad Annie", The December '73 Stax sessions are represented here with pleasant renditions of "Spanish Eyes" and "Help Me". "An American Trilogy" is as powerful as ever and Elvis' passion for Olivia Newton-John's "Let Me Be There" is evident too, with the ending being reprised in both shows.
As fans have come to expect from us, the tapes are of very good quality, sourced from early generation copies of the original cassettes. The double digipak contains liner notes and is filled with photos from the Montgomery, AL, March 6th, 1974 show, due to a lack of quality images from Presley's January-February 1974 engagement.
As usual, these recordings have been carefully engineered to be presented in the best possible sound.
Tracks:
CD 1 / Sunday, February 3, 1974 Dinner Show:
01. Introduction: Also Sprach Zarathustra - 02. C. C. Rider - 03. I Got A Woman / Amen - 04. Love Me - 05. Tryin' To Get To You - 06. Sweet Caroline - 07. Love Me Tender - 08. Johnny B. Goode - 09. Hound Dog - 10. Fever - 11. Polk Salad Annie - 12. Killing Me Softly with His Song (Voice) - 13. Spanish Eyes - 14. Why Me Lord? - 15. Suspicious Minds - 16. Introduction of vocalists, musicians - 17. I Can't Stop Loving You - 18. Help Me - 19. An American Trilogy - 20. Let Me Be There (with reprise) - 21. Can't Help Falling In Love - 22. Closing Vamp / Announcements.
CD 2 / Sunday, February 3, 1974 Midnight Show:
01. Introduction: Also Sprach Zarathustra - 02. C. C. Rider - 03. I Got A Woman / Amen - 04. Love Me - 05. Tryin' To Get To You - 06. Sweet Caroline - 07. Love Me Tender - 08. Johnny B. Goode - 09. Hound Dog - 10. Fever - 11. Polk Salad Annie - 12. Killing Me Softly with His Song (Voice) - 13. Spanish Eyes - 14. Why Me Lord? - 15. Suspicious Minds - 16. Introduction of vocalists, musicians - 17. I Can't Stop Loving You - 18. Help Me - 19. An American Trilogy - 20. Let Me Be There (with reprise) - 21. The First Time Ever I Saw Your Face - 22. Can't Help Falling In Love - 23. Closing Vamp