Knoxville Knockout CD

Recorded live at the UOT Stokely Arena, Knoxville, TN, April 8, 1972 Evening show
Our second new CD is titled "KNOXVILLE KNOCKOUT" (EPC 2019-23). Just as our first release, the Knoxville, TN, April 8, 1972 8:30 pm evening show is previously unreleased and moreover, it is completely a new show for all Elvis die-hard fans: again, never before in circulation, in any form! Interestingly enough, RCA was there to record, but their tape recorder malfunctioned. Now you can finally hear what RCA tried to record!!
This concert is taken from a recently discovered original audience recorded cassette tape. Unfortunately, "An American Trilogy" is incomplete, and it is possible that there's is one song missing, just before the "Can't Help Falling In Love" finale.
As we've come to expect from the April '72 shows, Elvis is in excellent form. And what a rare treat to finally get an audience recorded tape from this highly regarded tour! Elvis is firing on all cylinders. He knocks "How Great Thou Art" out of the ballpark. Wow, just wow!!
As usual, this CD is packaged in a nicely designed digipack with excerpts from a local press review and a collection of images taken on tour in April, 1972, including a couple of real, very rare Knoxville show shots.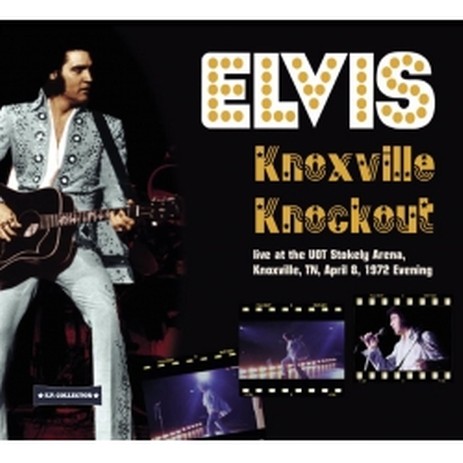 Tracklist:
01. Also Sprach Zarathustra (2001 Theme) - 02. C. C. Rider - 03. Proud Mary - 04. Never Been To Spain - 05. You Gave Me A Mountain - 06. Until It's Time For You To Go - 07. Polk Salad Annie - 08. Love Me - 09. All Shook Up - 10. Medley: Teddy Bear / Don't Be Cruel - 11. Hound Dog - 12. Love Me Tender (with break) - 13. How Great Thou Art - 14. I Can't Stop Loving You (with reprise) - 15. For The Good Times - 16. Suspicious Minds - 17. Band Introductions - 18. An American Trilogy (incomplete) - 19. Can't Help Falling In Love - 20. Closing Vamp.