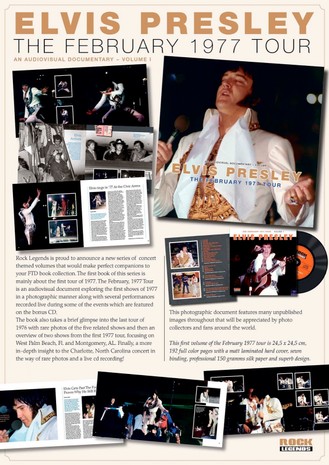 Elvis Presley - The February 1977 Tour Vol. 1 CD
Rock Legends is proud to announce a new series of concert themed volumess.
The February, 1977 Tour is an audiovisual document exploring the first shows of 1977 with several performances recorded live during some of the events which are featured on the CD.
CD TRACK LISTING:-
1. Love Me
2. Fairytale
3. You Gave Me A Mountain
4. Jailhouse Rock
5. O Sole Mio / It's Now Or Never
6. Little Sister
7. (Let Me Be Your) Teddy Bear / Don't Be Cruel
8. My Way
9. Moody Blue (intro only)
10. How Great Thou Art
11. Hurt (with reprise)
12. Hound Dog
13. Unchained Melody
14. Can't Help Falling In Love
Recorded live in Charlotte, North Carolina on February 20th, 1977.
15. And I Love You So
16. Fever
17. Blueberry Hill
18. Jailhouse Rock
Recorded live in West Palm Beach, Florida on February 13th, 1977.
19. Polk Salad Annie
20. Where No One Stands Alone
Recorded live in Montgomery, Alabama on February 16th, 1977.
21. Fairytale
22. Trying To Get To You
Recorded live in Dallas, Texas on December 28th, 1976.
23. For The Good Times (with false start)
24. The First Time Ever I Saw Your Face
Recorded live in Birmingham, Alabama on December 29th, 1976.
25. Rags To Riches
Recorded live in Pittsburgh, Pennsylvania on December 31st, 1976.