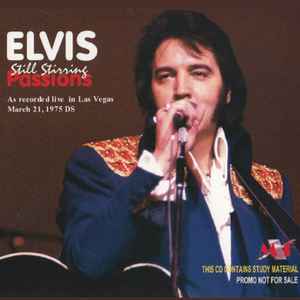 Elvis Presley - Still Stirring Passions CD
The MxF label released a new product called "Still Stirring Passions'' featuring the unreleased Vegas March 21, 1975 Dinner Show.
After the problematic October 1974 tour, almost five months of rest and a February hospital visit, Elvis was back to the Hilton a little bit overweight, but stronger respect the previous year and overall in higher spirit. For this reason his performance is relaxed and superb like many critics noted…, still at the top if his ability he deliveries short shows as usually, but very intense updating the show with more contemporary repertoire, tossing away mostly of the oldies..There is a freshness that cannot be denied, Elvis was very energetic on stage, bringing back his best seventy rocker like Burning Love, introducing his latest single Promised land.., He sang with power and sensitivity at the same time, delivering a solid short show, with songs like Let Me Be There recent hit from Olivia Newton-John" and the classic "My Boy" sang terrifically. Unlike previously Elvis didn't carry any Karate exercises, in this season the sport was never mentioned….but in same time respect the previous two years the rocking spirit was back, in fact Elvis started to perform again his rocking repertoire appearing to be more focused on the music.
The sound is very good for an ambient recording, We have on our hands the original mono tape of extremely good quality enabling us to carry out a simple re-mastering work, concentrating on the reduction of noise trying to achieve a more clear sound balancing the channel and put at the right speed the tape. The result a pretty dynamic tape with a great definition of the background music.
Tracklist:
Vegas March 21, 1975 DS
01. Intro 02. See See Rider 03. I Got A Woman 04. Amen05. Elvis Talks 06. Love Me 07. Burning Love 08. It's Midnight 09. And I love You So 10. Big Boss Man11. Love Me Tender 12. Hound Dog 13. Band Introductions 14. What'd I Say15. Ronnie Tutt Solo 16. Duke Bardwell Solo 17. Glen Hardin Solo 18. David Briggs Solo 19. Joe Guercio Theme 20 My Boy 21. If You Love Let Me Know 22. I'll Remember You 23. Let Me Be There 24. An American Trilogy 25. Can't Help Falling Love (part)
CD time about 50.00 min