FTD - Holiday Season In Vegas CD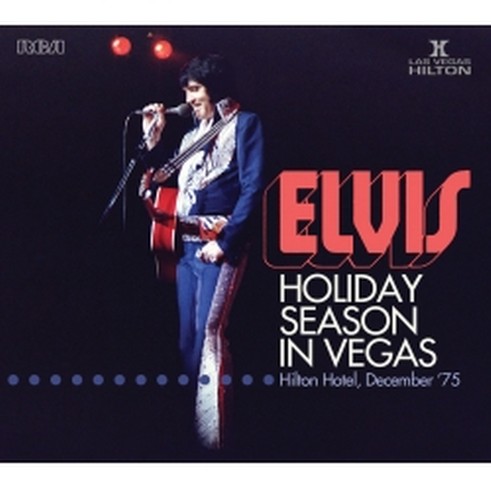 FTD is pleased to announce the release of "ELVIS: "HOLIDAY SEASON IN VEGAS (Hilton Hotel '75)". Released as a 5" digipack, this 2-CD set features Elvis in great form from the Hilton Holiday Season shows in December 1975 Las Vegas.
The shows are 'soundboard quality' and the AUDIO has sonic imperfections. It is on the original source tape.
Disc 1
MIDNIGHT SHOW – DECEMBER 13
01 C.C. Rider 4:21 02 I Got A Woman/Amen 7:01 03 Love Me 3:13 04 Trying To Get To You 2:08 05 And I Love You So 3:31 06 All Shook Up 0:59 07 (Let Me Be Your) Teddy Bear/Don't Be Cruel 3:01 08 You Gave Me A Mountain 3:27 09 Help Me Make It Through The Night 2:37 10 Polk Salad Annie 4:38 11 Introductions 10:35 12 Just Pretend 3:51 13 How Great Thou Art 4:44 14 Burning Love 3:28 15 Hound Dog 1:58 16 Softly, As I Leave You 3:02 17 America 2:25 18 It's Now Or Never 2:28 (Aaron Schroeder/Wally Gold) 19 O Solo Mio 1:04 20 Little Darlin' 2:02 21 Little Sister 2:48 22 Can't Help Falling In Love 1:56
Disc 2
DECEMBER 6
01 C.C. Rider 3:16 02 I Got A Woman/Amen 5:29 03 Love Me 3:25 04 Fairytale 3:32 05 Instrumental 0:30 06 And I Love You So 4:29 07 Trying To Get To You 2:02 08 All Shook Up 1:00 09 (Let Me Be Your) Teddy Bear/Don't Be Cruel 2:37 10 One Night 2:05 11 Polk Salad Annie 4:16 12 Introductions 9:12 13 Just Pretend 3:50 14 How Great Thou Art 4:34 15 Burning Love 3:30 16 Softly, As I Leave You 1:46 17 America 2:25 18 Can't Help Falling In Love 1:20 (last bars missing)