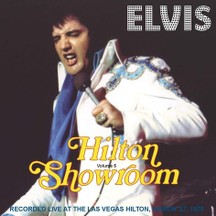 Elvis - Hilton Showroom vol. 5
AudiRec proudly presents: ELVIS – HILTON SHOWROOM VOLUME 5 – a brandnew CD. It includes an audience recording of the complete and so far unreleased performance from March 27, 1975 (Dinner Show) at the Las Vegas Hilton Hotel. Expect another dynamic Elvis performance from a time period when Elvis was willing to "deliver"!
Here we go with probably the last known recording of a March 75 Elvis Vegas-Show in pretty good, listenable sound. From the reports we have on hand (mainly from our personal archives of original "Elvis News Service Weekly" magazines) it shows that Elvis did just great since the engagement started on March 18. Forrest Duke from the "Las Vegas review Journal" commented "Hilton´s Elvis stronger than ever" and pointed out some new titles in Elvis´ setlist. Even Glen D. Hardin´s Aunt Ann Cummings attended the shows around March 27 and commented positively "Elvis his old self again". Well, since you are soon able to own the complete performance on CD just judge yourself!
It´s Las Vegas! It´s the Hilton Hotel Showroom! It´s ELVIS! Enjoy!
Tracklisting:
27.03.1975 Dinner show
01. Also Sprach Zarathustra 02. C .C. Rider 03. I Got A Woman / Amen (medley) 04. Love Me 05. If You Love Me (Let me Know) 06. And I Love You So 07. Big Boss Man 08. It's Midnight 09. Promised Land 10. Fairytale 11. Band Introductions 12. What'd I Say (James Burton) 13. Drum Solo (Ronnie Tutt) 14. Bass Solo (Duke Bardwell) 15. Piano Solo (Glen D. Hardin) 16. Electric Piano & Clavinet Solo (David Briggs) 17. School Day 18. Elvis Talks / Introduction of Lee Majors 19. My Boy 20. I'll Remember You 21. Help Me 22. Let Me Be There 23. An American Trilogy 24. Can't Help Falling In Love 25. Closing Vamp