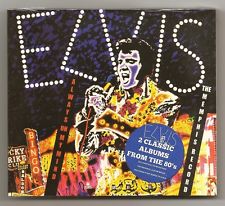 Elvis Presley - Always On My Mind And The Memphis Record CD
In the mid 1980's producer Rick Rowe compiled some excellent Elvis albums. All albums contained unique mixes, unavailable on any other Elvis album.
Out now is a stunning 6 panel digipack with 2 of the best Rick Rowe albums: 'Always On My Mind' and 'The Memphis Record'. These albums are very hard to find on original CD these days.
Rick Rowe did some mighty fine mixing on both albums. It's Midnight, You Gave Me a Mountain on 'Always On My Mind' simply sound fantastic. It's midnight has the best mixing you've ever heard. The unique mix of Separate Ways on this album is always worth a listen. But all tracks sound really 'different'. This new digipack release contains also some great rare bonus tracks!
'The Memphis Record' also has alternate mixes incl. I'm Movin' On, Wearin' That Loved On Look, Inherit The Wind plus Suspicious Minds without Brass overdub & fade out/fade in.
Now for the first time you have both great and rare albums on 1 sublime set. All tracks are remastered.
Limited Edition ... Don't Miss It !
Disc 1
1. Separate Ways 2. Don't Cry Daddy 3. My Boy 4. Solitaire 5. Bitter They Are, Harder They Fall 6. Hurt 7. Pieces Of My Life 8. I Miss You 9. It's Midnight 10. I've Lost You 11. You Gave Me A Mountain 12. Unchained Melody 13. Always On My Mind 14. Blue Eyes Crying In The Rain ( alternate mix ) 15. Help Me ( vocal harmony overdub ) 16. A Matter of Time ( brass overdub ) 17. Where do I Go From Here ( alternate mix ) 18. There's A Honky Tonk Angel ( unedited overdub master ) 19. Loving Arms ( overdub master ) 20. Sweet Angeline ( vocal overdub ) 21. Early Morning Rain ( vibes overdub )
Disc 2
1. Stranger In My Home Town 2. Power Of My Love 3. Only The Strong Survive 4. Any Day Now 5. Suspicious Minds 6. Long Black Limousine 7. Wearin' That Loved On Look 8. I'll Hold You In My Heart 9. After Loving You 10. Rubberneckin' 11. I'm Movin' On 12. Gentle On My Mind 13. True Love Travels On A Gravel Road 14. It Keeps Right On A-Hurtin' 15. You'll Think Of Me 16. Mama Liked The Roses 17. Don't Cry Daddy 18. In The Ghetto 19. The Fair Is Moving On 20. Inherit The Wind 21. Kentucky Rain 21. Without Love 22. Who Am I?