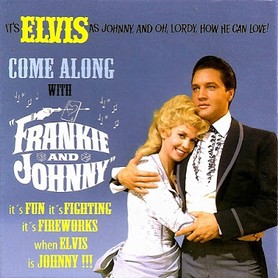 Elvis Presley - Come Along With Frankie And Johnny CD
Come Along' with Frankie & Johnny : The Frankie & Johnny Sessions 3 CD Set
'Come Along' With Frankie & Johnny is a deluxe 3 CD set that features the Frankie & Johnny Sessions. 3 fully packed CD's with rare and unreleased material, including 4 never before heard DEMO recordings written by Dolores Fuller, but rejected by Elvis & the Colonel for the movie.
This is a very limited release only......
Get it while you can and COME ALONG with Frankie & Johnny.
The Stereo Album
01 Frankie And Johnny
02 Come Along
03 Petunia, The Gardener's Daughter
04 Chesay
05 What Every Woman Lives For
06 Look Out, Broadway
07 Beginner's Luck
08 Down By The Riverside - When The Saints Go Marching In
09 Shout It Out
10 Hard Luck
11 Please Don't Stop Loving Me
12 Everybody Come Aboard
The Outtakes
13 Beginner's Luck / Take 2 (extra Intro)
14 Please Don't Stop Loving Me / Take 1-3
15 Please Don't Stop Loving Me / Take 4-5
16 Please Don't Stop Loving Me / Take 6
17 Please Don't Stop Loving Me / Take 7
18 Please Don't Stop Loving Me / Take 8
19 Please Don't Stop Loving Me / Take 9
20 Please Don't Stop Loving Me / Take 10
21 Please Don't Stop Loving Me / Take 11-14
22 Please Don't Stop Loving Me / Take 15-16
23 Please Don't Stop Loving Me / Take 17
24 Please Don't Stop Loving Me / Take 18-19♫
25 Shout It Out / Take 1
26 Shout It Out / Take 2-3
27 Shout It Out / Take 4-5
28 Shout It Out / Take 6-7♫
29 Frankie And Johnny / Movie Version ♦
The Mono Album
01 Frankie And Johnny
02 Come Along
03 Petunia, The Gardener's Daughter
04 Chesay
05 What Every Woman Lives For
06 Look Out, Broadway
07 Beginner's Luck
08 Down By The Riverside - When The Saints Go Marching In
09 Shout It Out
10 Hard Luck
11 Please Don't Stop Loving Me
12 Everybody Come Aboard
The Outtakes
13 Petunia. The Gardener's Daughter / Take 1
14 Petunia. The Gardener's Daughter / Take 2
15 Petunia. The Gardener's Daughter / Take 3
16 Petunia. The Gardener's Daughter / Take 4
17 Petunia. The Gardener's Daughter / Insert Take 1-3
18 Petunia. The Gardener's Daughter / Take 5-6♫
19 Look Out, Broadway / Take 1-2
20 Look Out, Broadway / Take 3-5
21 Look Out, Broadway / Take 6-8
22 Look Out, Broadway / Take 9
23 Look Out, Broadway / Take 10-12♫
24 Everybody Come Aboard / Take 1-2
25 Everybody Come Aboard / Take 3
26 Everybody Come Aboard / Take 4-5
27 Everybody Come Aboard / Take 6
28 Everybody Come Aboard / Take 7-8
29 Everybody Come Aboard / Take 9-10
30 Everybody Come Aboard / Take 11
31 Everybody Come Aboard / Take 12-13
32 Everybody Come Aboard / Take 14
33 Everybody Come Aboard / Take 15♫-16
♫ = Announcement Of Master Take Only
01 Chesay / Take 1
02 Chesay / Take 2-3
03 Chesay / Take 4
04 Chesay / Take 5
05 Chesay / Take 6-7♫
06 Frankie And Johnny / Take 1
07 Frankie And Johnny / Take 2-6♫
08 Frankie And Johnny / Mv Part 1 Take 1
09 Frankie And Johnny / Mv Part 1 Take 2-3
10 Frankie And Johnny / Mv Part 2-section 7
The Movie Versions
11 Come Along
12 Petunia. The Gardener's Daughter
13 Chesay
14 Frankie And Johnny / Version 1
15 Beginner's Luck
16 Down By The Riverside - When The Saints Go Marching In
17 Shout It Out
18 Hard Luck
19 Frankie And Johnny / Version 2
20 Everybody Come Aboard
Bonus Tracks
21 Theatrical Trailer
22 Theatrical Trailer
23 Radio Spot
24 Harry Morgan Interview Quote
Rejected Songs Written By Dolores Fuller ♦
25 Mississippi Sue
26 Better Believe It Baby
27 My Gypsy Heart
28 My Bittersweet
Mv = Movie Version
♫ = Announcement Of Master Take Only
♦ = Acetate Source, Artist Unknown