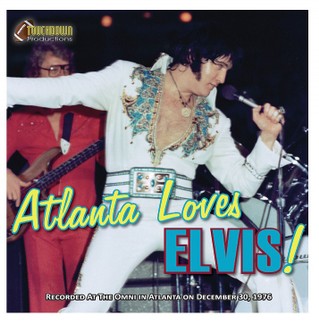 Atlanta Loves Elvis CD
Recorded at the Omni in Atlanta on December 30,1976
As 1976 came to an end, there was not much spectacular to find concerning Elvis Presley's career
over that year. In spite of well visited concerts and a constant high interest of his fans his live
concerts were reaching a low point in summer, which was noticeable at less euphoric feedback's
from the press and his fans who were sometimes disappointed by his performance.
The following autumn brought an upturn for Elvis. Until the end of the year he managed to turn
his low point into his last golden age. His concerts were getting exiting with an Elvis who became
more healthy and in shape again. The great mood of the King was showing of in his concerts
which made his last tour 1976 to one of the greatest in the 70s.
"Touchdown" presents you his concert from December the 30th 1976 on a new 2 Disc now.
Elvis and Atlanta always had a special connection to each other which made concerts in Atlanta
even more exiting. Elvis loved Atlanta and Atlanta loved him.
An amazing set list and an artist who gave everything for the audience made this show the
favorite for many fans. Even though this is just a record from the crowd the quality is amazing
and much better than all others known so far what you can hear in the sample. Furthermore this
evening Elvis sang and ultra rare and full length "Such A Night" for his fans.
Tracklisting:
CD one – Total Playing Time 40:36
Also Sprach Zarathustra – 1:31
See See Rider – 3:52
I Got A Woman/Amen – 8:13
Big Boss Man – 3:09
Love Me – 2:45
Fairytale – 3:20
Happy Birthday,Elvis – 1:30
You Gave Me A Mountain – 3:14
About `It´s Now Or Never´ - 0:51
O Sole Mio/It´s Now Or Never – 3:33
Jailhouse Rock – 1:43
Such A Night – 1:51
Talk With The Audience – 1:28
Reconsider Baby – 2:53
About `Are You Lonesome Tonight´- 0:43
CD two – Total Playing Time 42:37
Are You Lonesome Tonight – 3:18
That´s Alright Mama – 2:03
Having Fun With The Audience – 2:34
My Way – 3:41
Polk Salad Annie – 3:58
Band Introductions – 1:48
Early Morning Rain – 1:48
What`d I Say/Johnny B. Goode – 1:45
Drum Solo by Ronnie Tutt – 1:43
Bass Solo by Jerry Scheff – 1:31
Piano Solo by Tony Brown – 1:02
Love Letters – 2:53
School Days – 1:17
Hurt (with reprise) – 3:56
Hound Dog – 2:26
Unchained Melody – 3:22
Can´t Help Falling In Love – 1:49
Closing Vamp – 1:43