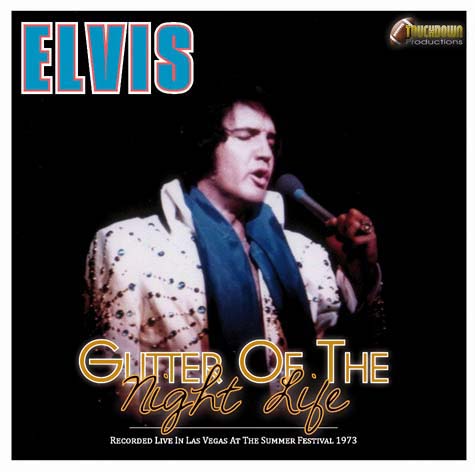 Glitter Of The Nightlife
"Glitter Of The Night Life" will come as a 2 CD set which offers you on the first CD the former unreleased dinner show from August 10, 1973, in very good sound quality!
The second CD includes recordings from August 11 & 19, 1973 in excellent quality. The shows have been released before, but at the wrong speed and in a much inferior sound than you can hear them now.
Tracklisting:
CD 1
1. See See Rider 2. I Got A Woman/Amen 3. Love Me 4. Steamroller Blues 5. You Gave Me A Mountain 6. Trouble 7. Blue Suede Shoes 8. Long Tall Sally/Whole Lotta Shakin´Goin´On/Mama Don´t Dance/Jailhouse Rock/Whole Lotta Shakin´Goin´On 9. Love Me Tender 10. Hound Dog 11. Fever 12. What Now My Love 13. Suspicious Minds 14. Introductions 15. My Boy 16. I Can´t Stop Loving You 17. An American Trilogy 18. Mystery Train/Tiger Man 19. Release Me 20. Teddy Bear/Don´t Be Cruel 21. Can´t Help Falling In Love 22. Closing Vamp 23. Bridge Over Troubled Water - Bonus Track
CD 2
- Tracks 1-17 recorded on August 19,1973 at the Midnight Show. Tracks 18-28 recorded on August 11,1973 at the Midnight Show.
1. Also Sprach Zarathustra 2. See See Rider 3. I Got A Woman/Amen 4. Love Me 5. You Gave Me A Mountain 6. Love Me Tender 7. Blue Suede Shoes 8. Long Tall Sally/Whole Lotta Shakin´Goin´On/Mama Don´t Dance/Flip,Flop & Fly/Whoel Lotta Shakin´Goin´On 9. Fever 10. What Now My Love 11. Suspicious Minds 12. Introductions - incomplete 13. Help Me Make It Through The Night 14. An American Trilogy 15. A BIg Hunk O´Love 16. How Great Thou Art 17. Can´t Help Falling In Love/Closing Vamp 18. See See Rider 19. I Got A Woman/Amen 20. Love Me 21. Steamroller Blues 22. You Gave Me A Mountain 23. Trouble 24. Blue Suede Shoes 25. Long Tall Sally/Whole Lotta Shakin´Goin´On/Mama Don´t Dance/Jailhouse Rock/Whoel Lotta Shakin´Goin´On 26. Love Me Tender 27. Fever 28. Bridge Over Trouble Water (incomplete)