Love Me Teddy Bear Tender CD

Recorded live at the International Hotel, Las Vegas, NV, September 3rd, 1971, Dinner show While some of Elvis import labels are just re-releasing previously issued and repackaged stuff, the always reliable E. P. Collector label is always looking for something new to release. We are always reaching out to people in order to find new material, and if it's interesting, we will purchase it, even if the sound is not studio perfect. In recent months we were in touch with a couple of fans who recorded a number of interesting concerts, which now enables us to release two more surprises.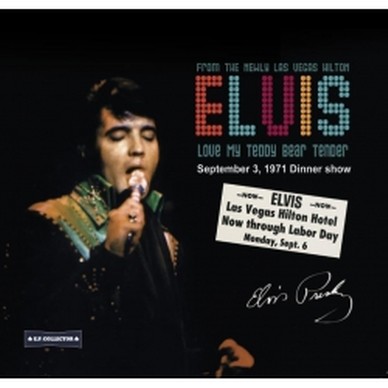 The first new release is titled "LOVE MY TEDDY BEAR TENDER" (EPC 2019-22) and it brings us the Las Vegas, September 3rd, 1971 Dinner show. You'll have to forgive us for the somewhat clumsy title, but maybe you'll understand when we tell you that it contains a sensational concert rarity! During this concert, he sings "Love Me Tender" to the tune of "Teddy Bear"!! He only did this once, during this concert, and now for the first time you can hear this amazing discovery!!! Who would think that we would still be getting surprises like this in 2019?! Concert recordings from '71 are hard to come by these days, especially unreleased ones. During this season, Elvis was on fire, and his setlist was varied and strong. Near the end of the engagement, his shows were a bit looser, and this one is a real delight. This concert recording is a completely new show, even for the hardcore fans. The audio was mastered from an original audience recorded cassette tape. This CD is packaged in a nicely designed digipack with a press review and a collection of images taken in Las Vegas, NV, in August/September 1971. Tracklist:
01. Orchestra Intro - 02. Also Sprach Zarathustra (2001 Theme) - 03. That's All Right - 04. I Got A Woman - 05. Proud Mary - 06. Sweet Caroline - 07. Polk Salad Annie - 08. Instrumental Intermezzo - 09. Johnny B. Goode - 10. It's Impossible (with false start) - 11. Love Me - 12. Medley: Blue Suede Shoes / Whole Lotta Shakin' Goin' On - 13. Heartbreak Hotel - 14. Love Me Tender sung to Teddy Bear tune - 15. Medley: Teddy Bear / Don't Be Cruel - 16. Hound Dog - 17. Suspicious Minds - 18. Band Introductions - 19. I'm Leavin' - 20. Lawdy Miss Clawdy - 21. Can't Help Falling In Love (with false start) - 22. Closing Vamp.