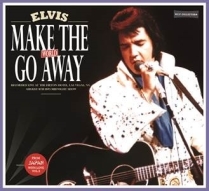 Recorded live at the Hilton Hotel, Las Vegas, NV, August 8th 1973 Midnight show, f
rom the E. P. Collector label is another fine release.
This new CD is titled "Make The World Go Away" (label E. P. Collector, catalogue number EPC 2016-09).
Recorded live from the audience on the Las Vegas, NV, August 8th, 1973 M/S, the CD is subtitled "From Japan With Love Vol. 2" because it was recorded by a member of a Japanese fan club.
The Las Vegas, August 8th, 1973 Midnight show is previously unreleased. This concert was never before available in good sound, until now! It was taken from a recently obtained first generation copy of an original audience recorded master cassette tape and digitally restored for your listening pleasure.
Elvis opened his 9th Las Vegas season on August 6th, he performed a total of 59 shows, closing on September 3rd - and unlike in February '73, there were no cancellations. Elvis refreshed his repertoire with several new additions, like "My Boy" or "The First Time Ever I Saw Your Face" and his concerts were longer. Elvis looked and sounded good and he gave an excellent performance on August 8th! In fact, this is a delightful concert and one that is warmly recommended. Elvis sings quite well, and his interplay with the audience is fun to listen to. He sounds in full control, like he was entertaining the crowd from his own living room.
This CD is packaged in a nicely designed digipak filled with collection of images taken in August 1973.
As with all our releases, this CD is a labour of love. We are planning several very interesting CDs in 2017, so stay tuned!
Tracklist:
01. Also Sprach Zarathustra (2001 Theme) - 02. C. C. Rider - 03. Medley: I Got a Woman / Amen - 04. Love Me - 05. Steamroller Blues - 06. You Gave Me a Mountain - 07. Trouble - 08. Blue Suede Shoes - 09. Medley: Long Tall Sally / Whole Lotta Shakin' Goin' On / Mama Can't Dance / Flip Flop And Fly / Jailhouse Rock / Whole Lotta Shakin' Goin' On - 10. Love Me Tender - 11. Hound Dog - 12. Fever - 13. What Now My Love - 14. Bridge over Troubled Water - 15. Suspicious Mind - 16. Band Introductions - 17. Introduction of Japanese fans - 18. My Boy - 19. I Can't Stop Loving You - 20. An American Trilogy - 21. A Big Hunk O'Love - 22. Release Me - 23. Make the World Go Away - 24. Can't Help Falling In Love - 25. Closing Vamp.