ELVIS:GHETTO POWER
Deluxe two disc set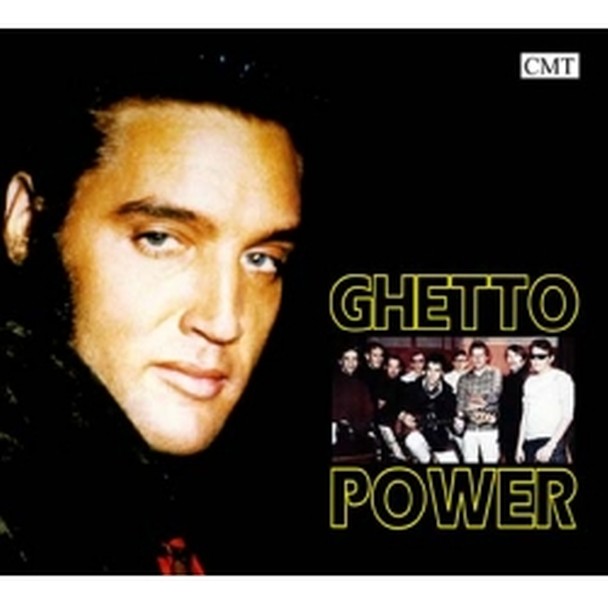 After last year's smash release STAX POWER the producers had to do this new release, made in the same editng style this will be THE must have 1969 release for it's 50th anniversary!
Including all tracks recorded and presented in a way as if it is one long session without pauses, this one kicks some serious A...
New splices create some extremely rare portions and extended versions and make them all sound brandnew!
Also some Dubbed masters are spliced with Undubbed for a new listening experience.
Disc one starts of with a five (!) minute version of "Long Black Limousine" just listen to the emotion in his voice!
"This is the Story" has been created from the undubbed master, with some portions of the normal master, gives a totally new feel to the song.
A Little Bit of Green (4:28 minutes!) has an unusual rehearsal version spliced with some alternate takes, because of the slower pace of the rehearsal the producers have also slowed down these takes and it works very well, so you can enjoy a really different performance!
"Rubberneckin" rocks like never before due to the addition of the first "licks" of take 1
The extra chorus at the end of "Without Love" gives the song (if possible) an even more emotional "load"
"Suspicious Minds" includes a spliced version , some rehearsal portions and at the end we get the original master hit version... which was worth all the hard work and still rocks after all these years!
After almost 80 minutes it's time for disc two!
Again some cool extensions make them all sound very, very different.
"The Grass Won't Pay No Mind" (3:49 minutes) has been edited very cleverly at the end and brings you more "Elvis" then before.
"Power of My Love" has a much longer intro, but due to the use of different takes (8 splices!) it all sounds very natural.
On "Kentucky Rain" (5:22 minutes) Elvis does his own backing with the "Rain in my shoes" lyrics and the first verse has been repeated
We could go on, but almost all the tracks on this smash release sound new and fresh, and although every Elvis fan probably has at least 10 releases of these sessions..
This is the one we've been waiting for..... for 50 years!
CD 1
Long Black Limousine - Spliced take 5,2,6,9
This is The Story - Alternate master
Wearin'That Loved-On Look - Spliced take 11,14
You'll Think of Me - Spliced take 1,6,14,8
I'm Movin' On - Alternate Master *
A Little Bit of Green - Rehearsal, take 2, 3, Rehearsal
In the Ghetto - Spliced take 5,7,13
Gentle On My Mind - Vocal Repair *
Rubberneckin' - Spliced take 1,2
Hey Jude - Spliced take 1,5
My Little Friend - Undubbed extended Master
Inherit the Wind - Spliced rehearsal/take 1
Mama Liked the Roses - Vocal Overdub #2 *
Don't Cry Daddy - Alternate Master
Poor Man's Gold - Spliced take 1 (edit)
From A Jack To A King - Spliced take 4,5,3
Without Love - Spliced take 3,4,1,1
I'll Hold You In My Heart - take 1 (edit)
I'll Be There - Spliced take 2,3 *
Suspicious Minds - Spliced take 5,5,7
Suspicious Minds - Take 8 *
Come Out, Come Out - Instrumental take 2 *
CD 2
Stranger in My Own Hometome - Alternate Master
True Love Travels On A Gravel Road - take 2 *
It's My Way/This Time/I Can't Stop Loving You *
True Love Travels On A Gravel Road - take 8 *
And the Grass Won't Pay No Mind - Spliced take 3,2,5,6,6,6,6
Power of My Love - Spliced take 2,3,3,1,1,1,3,3
After Loving You - Spliced take 2,3
Do You Know Who I Am? - Spliced take 6,7,4
Kentucky Rain - Spliced take 8,2,3,8,9,10
Only the Strong Survive - Alternate Master
It Keeps Right On A-Hurtin'- Spliced take 1,1,1,1,2
Any Day Now - Spliced take 3,4
If I'm A Fool - Spliced take 2,3,6,7
The Fair's Moving On - Spliced Master
Who Am I? - Spliced Extended Master
Memory Revival - Instrumental *
* Previously Released