A Private Audience With The King
2-CD-Set
Label Straight Arrrow
A Private Audience With The King and it will feature one of the best shows from his final Las Vegas engagement, namely the December 8th, 1976 9PM show, taken from the original source. Once again, a really good audience recording! This recording was previously released in 1991 by the PEAF label ('Tornado From Vegas'), but it was an incomplete version edited down to 70 minutes and the sound quality was below par. Straight Arrow was lucky enough to work with the original audio cassette as recorded by 'Gemini', who was happy enough to attend and record all 15 shows of this season.
This December 8th, 9PM concert is somewhat special. Elvis looked and sounded better than in the days before this show, and he gave strong, laid-back performance which lasted for 84 minutes. 400 British fans were present together with fan club president Todd Slaughter, British journalist Clifford Davies, Elvis' father Vernon and show business colleagues Liza Minelli, Merv Griffin, Tanya Tucker.
Among the show highlights are solid versions of 'That's All Right', 'Softly As I Leave You', 'Hurt' and a knockout performance of 'How Great Thou Art.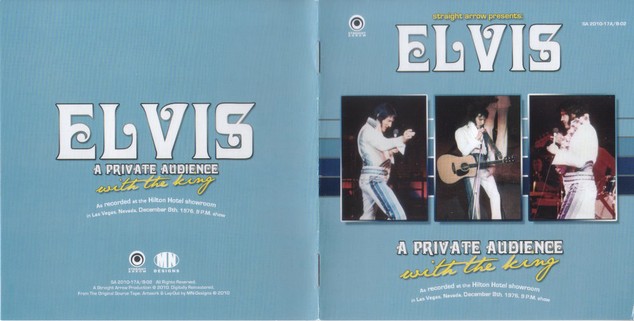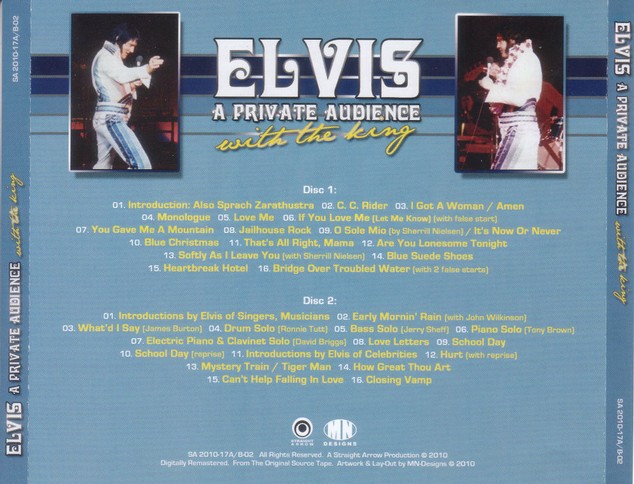 Disc #1:
01. Introduction: Also Sprach Zarathustra - 02. C. C. Rider - 03. I Got A Woman / Amen - 04. Monologue - 05. Love Me - 06. If You Love Me (Let Me Know) (with false start) - 07. You Gave Me A Mountain - 08. Jailhouse Rock - 09. O Sole Mio (by Sherrill Nielsen) / It's Now Or Never 10. Blue Christmas - 11. That's All Right, Mama - 12. Are You Lonesome Tonight - 13. Softly As I Leave You (with Sherrill Nielsen) - 14. Blue Suede Shoes - 15. Heartbreak Hotel - 16. Bridge Over Troubled Water (with 2 false starts).
Disc #2:
01. Introductions by Elvis of Singers, Musicians - 02. Early Mornin' Rain (John Wilkinson) - 03. What'd I Say (James Burton) - 04. Drum Solo (Ronnie Tutt) - 05. Bass Solo (Jerry Scheff) - 06. Piano Solo (Tony Brown) - 07. Electric Piano & Clavinet Solo (David Briggs) - 08. Love Letters 09. School Day - 10. School Day (reprise) - 11. Introductions by Elvis of Celebrities - 12. Hurt (with reprise) - 13. Mystery Train / Tiger Man - 14. How Great Thou Art - 15. Can't Help Falling In Love - 16. Closing Vamp