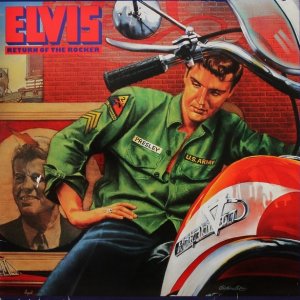 Elvis Return Of The Rocker - Reconsider Baby 2- CD-Set
These classic 1980s albums, both with rare tracks and different mixes, are now finally available in upgraded sound and as a superb digipack double CD album.
These albums were released on CD many years ago, but are very hard to find these days. So, this is your chance to grab these nostalgic albums again.
Please note that all tracks on the 'Return Of The Rocker' album are different mixes than the original masters and really sound superb!
Both albums contain extra added rare bonus tracks!
Tracklisting…
RECONSIDER BABY: Reconsider Baby / Tomorrow Night (unreleased Sun master) / So Glad You're Mine / One Night (alternate take with original lyrics) / When It Rains, It Really Pours / My Baby Left Me / Ain't That Loving You Baby (alternate take) / I Feel So Bad / Down In The Alley / Hi-Heel Sneakers / Stranger In My Own Home Town (alternate mix) / Merry Christmas, Baby (alternate version) / Don't Leave Me Now – take 13 / Beach Boy Blues – take 3 / Down In The Alley – take 1 / City By Night – take 10 / My Baby Left Me – live, July 29, 1970 / After Loving You – take 3 / Shake A Hand – original session mix / Reconsider Baby – live, February 21, 1977
RETURN OF THE ROCKER: King Of The Whole Wide World / (Marie´s The Name) His Latest Flame / Little Sister / A Mess Of Blues / Like A Baby / I Want You With Me / Stuck On You / Return To Sender / Make Me Know It / Witchcraft / I´m Comin´ Home / Follow That Dream / What A Wonderful Life – take 1 / Shoppin' Around – take 5 / Slicin' Sand – take 14 / Beyond The Band – take 1 / In Your Arms – take 1 / I Got Lucky – take 1 / Mexico – take 6 / C'mon Everybody – take 6