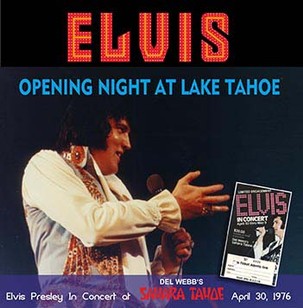 Elvis Presley - Opening Night At Lake Tahoe CD
AudiRec proudly presents: ELVIS – OPENING NIGHT AT LAKE TAHOE – a brandnew CD which will be released shortly. It includes an audience recording of the complete and so far unreleased performance from April 30, 1976 (the Opening Show was actually a Dinner Show, there were two performances this day).
Welcome to another AudiRec CD release which takes you back to the spring of 1976. At the time this CD is being released it means that it´s actually kind of a "40th Anniversary". To be honest, we did not plan to do this just because it is exactly 40 years ago that Elvis played his final Lake Tahoe-Season.
As a matter of fact Elvis was working very hard the whole year of 1976. While in January Elvis had a rather quiet time and even showed some effort to just relax and have fun, early February he was kind of "forced" to record new songs for an album release and early March he was back on tour. We all know from "Elvis History", that the "King" would have done much better for his health if he would not let himself being that busy but for whatever reason tour after tour was being scheduled… and done. No matter what the critics in many newspapers wrote about his performances – at least they had to admit that Elvis´ popularity (at least all over the USA) was so big that ticket-selling for any upcoming concerts didn´t even need any advertising. Billboard´s Headline in early March 76´ told us "No Ads, But Presley SRO On Current 5-Concert Gig" for the short tour in March. "Elvis plans busy spring" was another headline shortly after this and it said "Like Lightning: Who says Elvis isn´t working hard? Before he stars at the Sahara Tahoe April 30 – May 9, Elvis will be on a concert tour", then adding the dates and finally conclude "Elvis is still the super superstar".
So when Elvis came to the beautiful area of Lake Tahoe at the end of April, he most likely was not aware that this would be his last season at the Sahara Tahoe Hotel. The shows have mostly been described by fans as "relaxed" with "lots of surprising moments", but there were also remarks saying that the "King" looked unhealthy and tired. From what we can hear on the so far released CDs it sure was a mixture of all of this and still we believe that this last engagement had many moments fans do not want to miss.
It´s Lake Tahoe! It´s the Sahara Tahoe Showroom! It´s ELVIS! Enjoy!
Tracklisting:
Lake Tahoe, 30.04.1976 Opening night
01. Also Sprach Zarathustra 02. C .C. Rider 03. I Got A Woman / Amen (medley) 04. Love Me 05. Let Me Be There (false start only) / If You Love Me (Let Me Know) 06. You Gave Me A Mountain 07. All Shook Up 08. Teddy Bear / Don't Be Cruel (medley) 09. Trying To Get To You 10. Polk Salad Annie 11. Band Introductions 12. What'd I Say (James Burton) 13. Drum Solo (Ronnie Tutt) 14. Bass Solo (Jerry Scheff) 15. Piano Solo (Tony Brown) 16. Electric Piano Solo (David Briggs) 17. School Day 18. America The Beautiful 19. Hurt 20. Burning Love 21. How Great Thou Art 22. Funny How Time Slips Away (with reprise) 23. Hound Dog 24. Can't Help Falling In Love (with false start) 25. Closing Vamp / Announcements