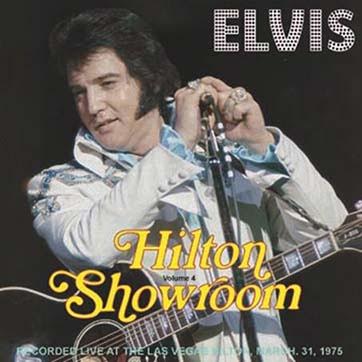 Elvis Presley Hilton Showroom Vol. 4 CD
AudiRec proudly presents "Elvis - Hilton Showroom Volume 4". It includes an audience recording of the complete and so far unreleased performance from March 31, 1975 (Dinner Show) at the Las Vegas Hilton Hotel. The sound on this new CD is probably the best from all volumes of the series so far according to the press-release.
From the AudioRec label:
So here we go with a really interesting show in really good sound. From the reports we have on hand (mainly from our personal archives of original "Elvis News Service Weekly" magazines) it shows that Elvis seemed a bit uncomfortable with the audience on this Monday evening. One fan from the US even commented "Elvis came out rarin' to go and was hit right at the beginning by the coldest, deadest audience we have ever seen in Vegas". Well, since you now have the complete performance on CD just judge yourself! Fans of our series know what to expect, not only from listening but also from reading in the usual high quality booklet that is included with first-hand information from what was going on at the Hilton Hotel in Las Vegas in March of 1975.
Tracks 31.03.1975 Dinner Show:
01. Also Sprach Zarathustra
02. C .C. Rider
03. I Got A Woman / Amen (medley)
04. Love Me
05. If You Love Me (Let Me Know)
06. And I Love You So
07. Big Boss Man
08. It's Midnight
09. Burning Love
10. Band Introductions
11. What'd I Say (James Burton)
12. Drum Solo (Ronnie Tutt)
13. Bass Solo (Duke Bardwell)
14. Piano Solo (Glen D. Hardin)
15. Electric Piano Solo (David Briggs)
16. School Day
17. My Boy
18. I'll Remember You
19. Let Me Be There
20. My Heavenly Father Watches Over Me (Kathy Westmoreland)
21. Hound Dog
22. Can't Help Falling In Love
23. Closing Vamp