Elvis As Recorded Live In Huntsville `75 CD

A new cd release from the REVISITED label with Elvis live at Von Braun Civic Center. Saturday. May 31, 1975 (8:30 PM). Huntsville, AL. A great soundboard recording released only once before on a single disc many years ago. A show with great songs like "Hawaiian Wedding Song" and "I'm Leavin'". The beginning of the evening show was not recorded but as a bonus we've included recordings from the matinee show one day later (Sunday. June 1, 1975. Huntsville, AL.), including "How Great Thou Art" and a medley of early hits. Elvis was truly inspired by the superb reaction he received in Huntsville, selling out five shows. These are recordings from show number 3 and 4 in very good sound quality.
This is a limited edition SOUNDBOARD release to celebrate te 45th Anniversary of this great event! Including a booklet with photos and information about these shows.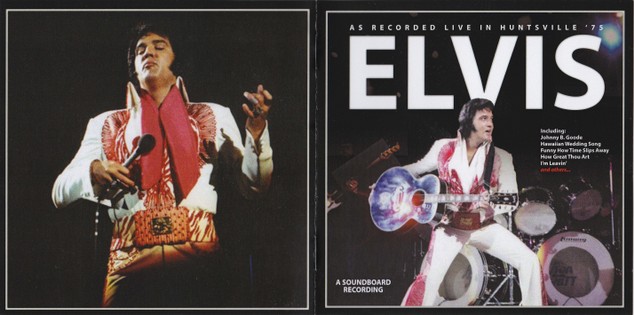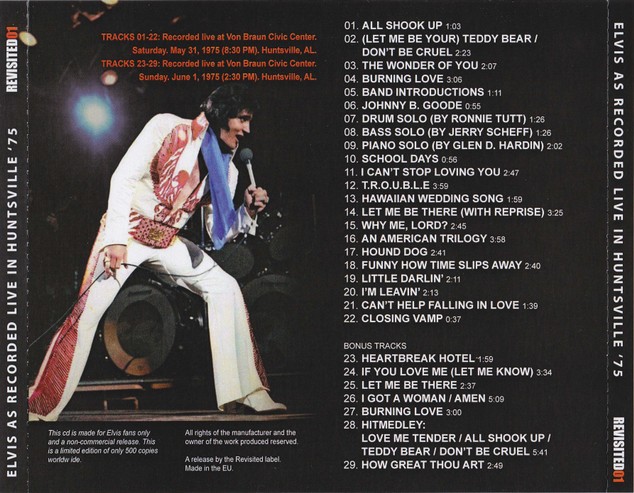 01. ALL SHOOK UP
02. (LET ME BE YOUR) TEDDY BEAR / DON'T BE CRUEL
03. THE WONDER OF YOU
04. BURNING LOVE
05. BAND INTRODUCTIONS
06. JOHNNY B. GOODE
07. DRUM SOLO (BY RONNIE TUTT)
08. BASS SOLO (BY JERRY SCHEFF)
09. PIANO SOLO (BY GLEN D. HARDIN)
10. SCHOOL DAYS
11. I CAN'T STOP LOVING YOU
12. T.R.O.U.B.L.E
13. HAWAIIAN WEDDING SONG
14. LET ME BE THERE (WITH REPRISE)
15. WHY ME, LORD?
16. AN AMERICAN TRILOGY
17. HOUND DOG
18. FUNNY HOW TIME SLIPS AWAY
19. LITTLE DARLIN'
20. I'M LEAVIN'
21. CAN'T HELP FALLING IN LOVE
22. CLOSING VAMP
BONUS TRACKS
23. HEARTBREAK HOTEL
24. IF YOU LOVE ME (LET ME KNOW)
25. LET ME BE THERE
26. I GOT A WOMAN / AMEN
27. BURNING LOVE
28. HITMEDLEY: LOVE ME TENDER / ALL SHOOK UP / TEDDY BEAR / DON'T BE CRUEL
29. HOW GREAT THOU ART