From the E. P. Collector label is another fine release, Wild In Wichita!, their 10th - and 1st one for 2017. This new CD (label E. P. Collector, catalogue number EPC 2017-10) was recorded live from the audience in Wichita, Kansas, on December 27th, 1976.
This is a previously unreleased show, taken from a recently found first generation copy of an original audience recorded master cassette tape. This show was recorded by an American woman and her recording was never in circulation. Until now, the Wichita show was never available in an acceptable sound. The only existing tape was of absolutely horrible quality, perhaps the worst audience recording ever. The EPE label looked for a better tape and succeeded! Although still not great quality, it is a very listenable recording of this wonderful December '76 tour-opening show!
To prevent possible speculations: many years ago, the official "Follow That Dream' label reportedly planned a possible soundboard release of the Wichita '76 show. Unfortunately, this info was based on a mislabeled tape in the FTD vaults. There are no indications that a soundboard recording of this show exists.
Just as all other December '76 tour shows, this concert is excellent! Elvis appeared on stage with the same joy and energy as in Pittsburgh on New Year's Eve. Highlights are 'Fairytale', 'And I Love You So', a full version of 'Early Mornin' Rain', an unbeatable performance of 'How Great Thou Art', and 'Hurt'. One unique performance stands out. It was the very first time that Elvis performed 'Unchained Melody', accompanying himself on piano. This premier performance is tentative in parts but that's part of the magic. A great Presley moment!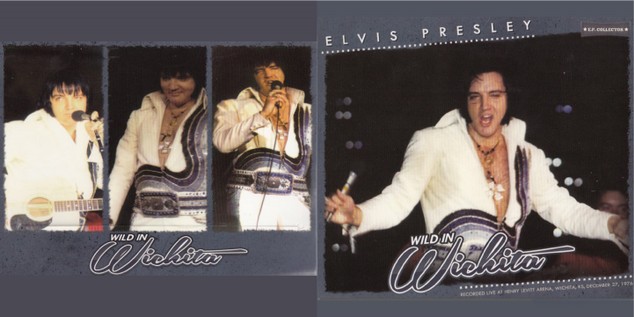 Tracklist:
Pre-program:
01. The Fifth Of Beethoven (disco version, by Joe Guercio orchestra) - 02. Gone At Last (by The Stamps) - 03. Operator (by The Stamps).
Elvis Presley show:
04. Also Sprach Zarathustra (2001 Theme) - 05. C. C. Rider - 06. medley: I Got A Woman / Amen - 07. Love Me - 08. Fairytale - 09. You Gave Me A Mountain - 10. Jailhouse Rock - 11. medley: O Sole Mio (by Sherrill Nielsen) / It's Now Or Never - 12. All Shook Up - 13. medley: (Let Me Be Your) Teddy Bear / Don't Be Cruel - 14. And I Love You So - 15. Fever - 16. Polk Salad Annie - 17. Band Introductions - 18. Early Mornin' Rain - 19. What'd I Say - 20. Johnny B. Goode - 21. Drum Solo (Ronnie Tutt) - 22. Bass Solo (Blues - Jerry Scheff) - 23. Piano Solo (Tony Brown) - 24. Electric Piano Solo (David Briggs) - 25. Love Letters - 26. School Day - 27. Hurt (with reprise) - 28. Hound Dog - 29. How Great Thou Art - 30. Unchained Melody (performed 1st time) - 31. Can't Help Falling In Love - 32. Closing Vamp / Announcements.