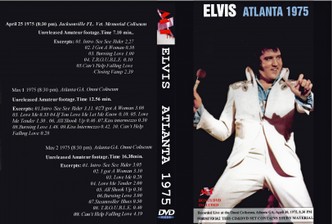 Elvis Presley - Atlanta 1975 CD/DVD box-set
The MxF label released its new special product called "Atlanta 1975'' featuring the unreleased Show from Atlanta April 30, 1975 plus a bonus DVD with unreleased footage from the same tour.
After the successful Las Vegas Hilton comeback, in spite a little bit overweight but with strong spirit, Elvis is ready to face his first tour of the 1975.. The rock attitude is back the performance is relaxed and superb like many critics noted…, still at the top if his ability he deliveries the classic one hour show as usually, but very intense updating the show with more contemporary repertoire, tossing away mostly of the oldies..There is a freshness that cannot be denied, Elvis was very energetic on stage, bringing back his best seventy rocker like Burning Love and his first That's All Right Mama…and naturally his karate exercises…introducing his latest rocker single TROUBLE.. He sang with rough power and sensitivity at the same time, delivering a solid short show, with songs like Let Be There recent hit from Olivia Newton-John" and the classic "My Boy" sang terrifically. Elvis finally started to perform again his rocking repertoire appearing to be more focused on the music.
The sound is very good for an ambient recording, considering that this kind of recording is coming from a big hall no the intimate Las Vegas showroom… We have on our hands the original mono tape of extremely good quality enabling us to carry out a simple re-mastering work, concentrating on the reduction of noise trying to achieve a more clear sound balancing the channel and put at the right speed the tape. The result a pretty dynamic tape with a great definition of the background music and for sure you can live the atmosphere of a Elvis' concert in the seventy.
About the DVD in spite we are talking about amateur footage, we are proud of the work done..after careful remastering work in the matter to delivery the best video to date, including matching audio from the original concert in the way to get a perfect sync between audio and image with speed correction of the original footage we can say that watching this DVD you can have the perfect idea and overall, you can live the Elvis' show in April 1975 tour…
This is the first very special Product for this label, this new CD&DVD combo will be housed in a deluxe LONG DIGIPACK.
CD time about 65.00 min
Tracklist:
Atlanta April 30, 1975
01. Intro/See See Rider 02. I Got A Woman /Amen 03. Love me 04. If You Love Let Me Know 05. Love Me Tender 06. All Shook Up 07. Teddy Bear/Don't Be Cruel 08. I'll Remember You 09. Help Me 10. How Great Thou Art 11. Band Intro 12. Solos 13. Band Intro 14. Hail! Hail! Rock & Roll 15. My Boy 16. T.R.O.U.B.L.E. 17. It's Now Or Never 18. Let Me Be There 19. An American Trilogy 20. Burning Love 21. Funny How Time Slips Away 22. That's All Right 23. Can't Help Falling Love /Closing Vamp
DVD Tot. Time 40,00 min. Included Previously Unreleased Footage
Contains Footage from Jacksonville.FL April 25, Atlanta GA. June 1 and 2.
April 25 1975 (8:30 pm). Jacksonville FL. Vet. Memorial Coliseum
Excerpts:
01. Intro /See See Rider 2,27 02. I Got A Woman 0.58 03. Burning Love 1.00 04. T.R.O.U.B.L.E 0.10 05.Can't Help Falling Love /Closing Vamp 2.39
May 1 1975 (8:30 pm). Atlanta GA. Omni Coliseum
Excerpts:
01.Intro /See See Rider 3.11. 02.I got A Woman 3.08 03. Love Me 0.35 04.If You Love Me Let Me Know 0.10. 05. Love Me Tender 1.30 . 06. All Shook Up 0.46 . 07.Kiss intermezzo 0.30 08.Burning Love 1.48. 09.Kiss Intermezzo 0.42. 10. Can't Help Falling Love 0.28
May 2 1975 (8:30 pm). Atlanta GA. Omni Coliseum
Excerpts:
01. Intro /See See Rider 3.05 02. I got A Woman 3.10 03. Love Me 0.28 04. Love Me Tender 2.00 05. All Shook Up 0.36 06.Burning Love 3.00 07.Steamroller Blues 0.50 08. T.R.O.U.B.L.E. 0.40 09. Can't Help Falling Love 4.19