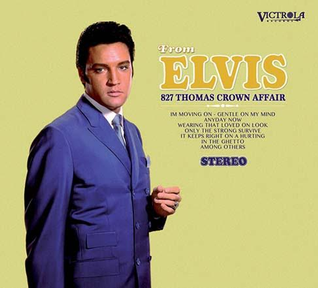 Elvis Presley - 827 Thomas Crown Affair CD
Coming out soon is new Victrola label CD, called '827 Thomas Crown Affair'. The American Sound sessions of '69 are an iconic marker in Elvis Presley's career. The Singer Special of '68 had returned the King to the throne he had vacated for Hollywood for the past decade. He returned to Memphis, where it all began. He was home, he was recharged and in fine form vocally, mentally and physically.
Chips Moman presented the songs to Elvis and produced the rhythm sessions with the Memphis Boys; Reggie Young, Tommy Cogbill, Bobby Emmons, Bobby Wood, Mike Leech and Gene Chrisman. A fine stable of musicians who contributed a style which was heavily R&B influenced. This and the fact that Chips had a knack for producing hits is what drew Elvis to American Sound in the first place.
Reports from direct sources state that Chips was very much in charge of production. He was the producer, no matter who got credit. Felton Jarvis and Al Pachucki, since they engineered the mixes, also received credit. The tracks on this disc present a warmer, richer sound and mix, than found on previously released albums!
Every song presented here is in its original undubbed form, apart from 'Gentle On My Mind' and 'I'm Moving On'. As the American sessions were so important in Elvis' career, they produced a stream of hits, this CD needs to have a space in your collection. We hope you enjoy this CD as much as we have enjoyed compiling it for you!
Tracklist:
01. Wearin' That Loved On Look 02. Only The Strong Survive 03. I'll Hold You In My Heart 04. Long Black Limousine 05. It Keeps Right On A-Hurtin' 06. I'm Movin' On 07. Power Of My Love 08. Gentle On My Mind 09. After Loving You 10. True Love Travels On A Gravel Road 11. Any Day Now 12. In The Ghetto
Bonus:
13. I'm Movin' On - take 2 14. Long Black Limousine - splice of takes 2 & 5