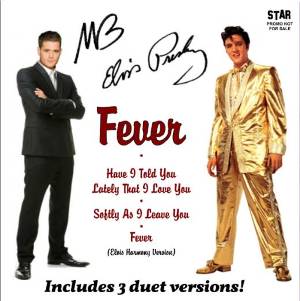 Elvis Presley - FEVER CD – MINI DISC RELEASE
INCLUDING TWO ADDITIONAL DUETS WITH MICHAEL BUBLE!!
An incredible release!!
STAR managed to create 2 additional duets with Canadian Superstar Michael Buble, including a breathtaking version of "Softly, As I Leave You"
(Elvis recites the words, where Michael sings, where both sing the final segment)
And a very enjoyable "Have I Told You Lately" , the harmony sounds astonishing!
Included as a bonus is an Elvis "harmony" version of FEVER, boy this sounds great!
Tracklisting:
FEVER (as released on "If I Can Dream")
HAVE I TOLD YOU LATELY – Duet with Michael Buble
SOFTLY, AS I LEAVE YOU – Duet with Michael Buble
FEVER – Elvis "Harmony" version