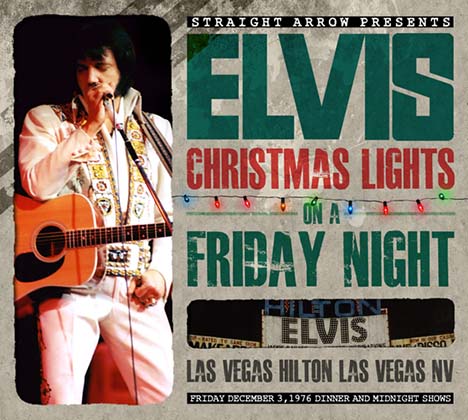 Elvis - Christmas Lights On A Friday Night
A MUST-OWN DOUBLE CD RELEASE FROM THE CELEBRATED STRAIGHT ARROW LABEL:
As the final month of 1976 rolled around, Elvis arrived in Las Vegas for what would be his 15th and final visit as a performer, playing 15 concerts to some very mixed press reviews. By all accounts, health and weight issues had unfortunately contributed to a lowering of the very high standards Elvis had once embraced as a live artist. Still, the fans always came, and sometimes Presley showed more than a hint of the magic that made him the greatest singer of all.
On this collection are the second and third appearances of the ten-day stand, and Elvis is in quite good form, including seasonal favorite "Blue Christmas" along with favorites like "Tryin' To Get To You", "Bridge Over Troubled Water", "America the Beautiful" and the powerhouse gospel of "How Great Thou Art". As always, his rendition of "Hurt" is thrills both audiences. It was a Friday night to for any fan to savor throughout the holiday season. As fans have come to expect, the recordings are of very good audio quality, sourced from original master tapes recorded by British super-fan "Gemini." The double digipak is filled with liner notes and photos from both shows that December 3rd. Again, these recordings have been carefully engineered to be presented in the best possible sound. Tracks:
CD 1 / Friday, December 3, 1976 Dinner Show:
01. Introduction: Also Sprach Zarathustra - 02. C. C. Rider - 03. I Got A Woman / Amen - 04. Love Me - 05. If You Love Me (Let Me Know) - 06. You Gave Me A Mountain - 07. It's Now Or Never - 08. One Night - 09. All Shook Up - 10. (Let Me Be Your) Teddy Bear / Don't Be Cruel -11. And I Love You So - 12. Fever - 13. Polk Salad Annie - 14. Introduction of vocalists, musicians - 15. Early Morning Rain (John Wilkinson) - 16. What'd I Say (James Burton) - 17. Drum Solo (Ronnie Tutt) - 18. Bass Solo (Jerry Scheff) - 19. Piano Solo (Tony Brown) - 20. Electric Piano and Clavinet Solo (David Briggs) - 21. Love Letters - 22. School Day (Joe Guercio Orchestra) - 23. Hurt - 24. Hound Dog - 25. Blue Christmas - 26. Can't Help Falling In Love - 27. Closing Vamp
CD 2 / Friday, December 3, 1976 Midnight Show:
01. Introduction: Also Sprach Zarathustra - 02. C. C. Rider - 03. I Got A Woman / Amen - 04. Love Me - 05. If You Love Me (Let Me Know) - 06. You Gave Me A Mountain - 07. Jailhouse Rock - 08. Intstrumental Intermezzo - 09. It's Now Or Never - 10. Bridge Over Troubled Water - 11. Tryin' To Get To You - 12. Blue Suede Shoes - 13. And I Love You So - 14. Softly As I Leave You - 15. America the Beautiful - 16. Introduction of vocalists, musicians - 17. Early Morning Rain (John Wilkinson) - 18. What'd I Say (James Burton) - 19. Johnny B. Goode (James Burton) - 20. Drum Solo (Ronnie Tutt) - 21. Bass Solo (Jerry Scheff) - 22. Piano Solo (Tony Brown) - 23. Electric Piano and Clavinet Solo (David Briggs) - 24. Love Letters (with false start) - 25. School Day - 26. School Day (reprise) - 27. Hurt - 28. Hound Dog - 29. How Great Thou Art (with false start) - 30. Can't Help Falling In Love - 31. Closing Vamp