"Black Star" originally released as an LP in 1986 and never been published on compact disc since. That is, until now!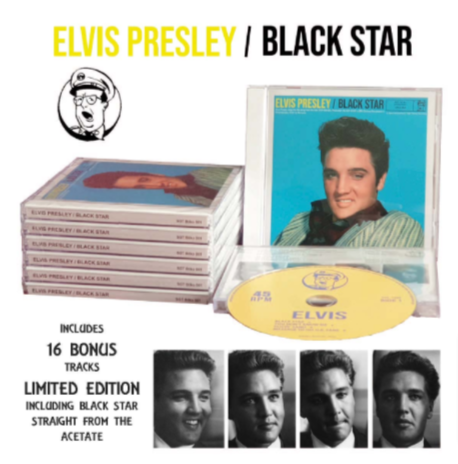 The original composite master of "Black Star" was included on this classic release. A song recorded for the film "Flaming Star" in August 1960, but later rejected and re-recorded with a new title "Flaming Star" in October 1960. Back in 1986 this was the very first outing of this song and until now no official release features the original composite master of this great track.
16 additional tracks are included on this commemorative edition. Get this fantastic release now to complete your collection! This is a limited edition.
ORIGINAL ALBUM:
01 Black Star ● Original Composite Master (from acetate)
02 You Don't Know Me ● Remake Take 1 (from acetate)
03 Slicin' Sand ● Take 16 & 17
04 Message To His U.K. Fans ●
BONUS TRACKS:
05 Black Star ● Take 5
06 You Don't Know Me ● Take 1,2
07 Flaming Star ● Take 1
08 You Don't Know Me ● Take 12 & 13
09 Slicin' Sand ● Take 10
10 Flaming Star ● Take 6 / 3 Channel Mix
11 Flaming Star ● Take 5
12 Flaming Star ● Take 6
13 Black Star ● End Title Take 1, 2, 4 & 5
14 Flaming Star ● End Title Take 3 & 4
15 You Don't Know Me ● Take 18
16 You Don't Know Me ● Film Version
17 Flaming Star ● Take 6 Unedited Instrumental
18 You Don't Know Me ● Live August 14, 1970
19 Interview March 22, 1960 ● Fountainebleau Hotel Miami Florida
20 Elvis Presence Check March 24, 1958