LIFE - THE ALTERNATE NASHVILLE RECORDINGS 1970 / 1971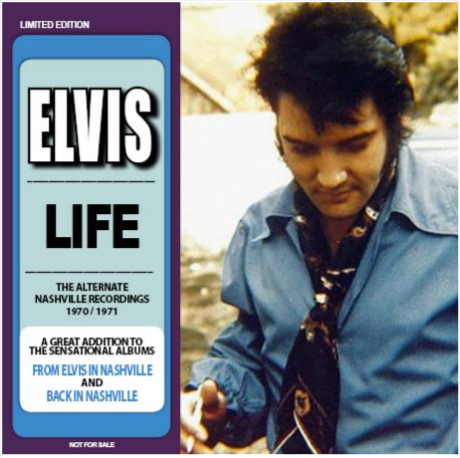 A new label brings out the cd 'Life - The Alternate Nashville Recordings 1970 / 1971'.
17 Tracks in total, including alternate recordings that were missing on official releases. That makes this cd a great addition to the sensational albums 'From Elvis In Nashville' and 'Back In Nashville'.
All in the best sound quality! Also included are 2 duets from 'The First Time Ever I Saw Your Face', one with Ginger Holladay and one with Temple Riser.
Presented as a promo release. The artwork is in the style of Elvis' 1971 single 'Only Believe / Life'.
1. Stranger In The Crowd
(rehearsal / alternate take 7)
2. Life (rehearsal / take 1)
03. Heart Of Rome (overdub take 3)
04. Heart Of Rome (overdub work part 1)
05. Cindy Cindy (overdubbed unedited master)
06. Make The World Go Away (overdub work part 1)
07. When I'm Over You (string overdubs / unedited master)
08. Tomorrow Never Comes (take 13 / ending only)
09. The First Time Ever I Saw Your Face (duet with Ginger Holladay)
10. Sylvia (take 7)
11. Got My Mojo Working / Keep Your Hands Off It
(Additional brass overdubs / unedited master)
12. Life (take 17)
13. Life (take 18 & 19)
14. Mary In The Morning (backup vocal overdub / unedited master)
15. It's Your Baby You Rock It (backup vocal overdub / unedited master)
16. I'll Be Home On Christmas Day (take 7)
17. The First Time Ever I Saw Your Face (duet with Temple Riser)