Elvis Sold Out Vol. 15 DVD

Sold Out is back, and volume 15 is now rolling off the presses. And what a humdinger of a release this 2-DVD set is, jampacked with fantastic, unreleased Elvis concert footage directly from private sources in Holland, Germany and the UK… 20 different 8mm films this time!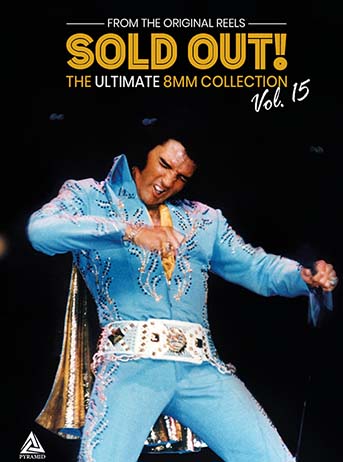 From the responses we get, we know that the June '74 footage is a firm favorite with fans. Therefore, we are proud to be able to include six different films from this tour, with the longest being 30 minutes. Elvis looked dazzling on this tour, and wore some of his most iconic jumpsuits, like the American Eagle, the Rainbow and the Inca Gold Leaf. He was very playful during these shows, accepting gifts from fans, teasing bandmembers and joking with the audience. There's plenty of cool moments, like him introducing himself as 'Alvis Paisley', or singing a snatch of 'Good Time Charlie's Got The Blues'. What you get is the real 'nitty gritty' of Elvis live in '74: great vocals, fun interaction with his audiences, looking just great and giving his all…. The iconic Elvis.
There's also plenty of good stuff from the final years, including close-up film from Hartford and dynamic footage from the legendary 12/28/'76 Dallas concert. And yes, it includes THAT version of 'C.C. Rider'!
To mark the 50th anniversary of 'Elvis On Tour', there is also included rare 8mm footage from the April '72 tour, as well as clips from the June '72 tour.
Three hours of rare, unreleased Elvis footage that will rock you, mastered with care, and presented as originally filmed.