KANSAS CITY REVISITED
MILLBRANCH MUSIC is back after nearly 10 years and this time we have been able to work with a completely new team of enthusiasts! The result is that we are now able to present a great 3-Disc Digipack release for every serious "Elvis live in the 70´s" – collector! Since just about everything has changed in our way of approaching an Elvis CD project we are absolutely sure that this time there is quality all the way in terms of sound (no audience recordings) and performances!
Introducing our first "Soundboard" release on the "MM" label here are two performances by Elvis and his exciting group of musicians (Afternoon and Evening show from the same day) at his fabulous early Summer 1974 Tour. Kansas City was the place to go on June 29, 1974, because Elvis was willing to deliver two extremely entertaining shows of high standard – and he did!
The evening show of this day has been released a couple of times already, but never before in such great sound quality. Now that is interesting of course, but have you ever heard the afternoon show from the same day (Soundboard-Recording)? Probably not, as that one has NOT been released yet in any form. Until now……..
We believe that the pairing of these two Kansas City shows alone already make a very nice package – but we would not talk about a "great" release if it was just "nice to have", so we decided to make it kind of "perfect" and added a third disc and that is a DVD! You will have the best possible visual accompaniment for the two shows of June 29, 74 – perfectly synched with the same incredible sound that you can hear on our cd´s! We also have been able to obtain the best possible HD picture quality for our project and so you will be able to not only hear, but also to see the "real deal". But that is not even all, since there is even more to "discover" on our DVD, which is included in the package!
Don´t waste any minute and make sure to order it while you can from your local dealer!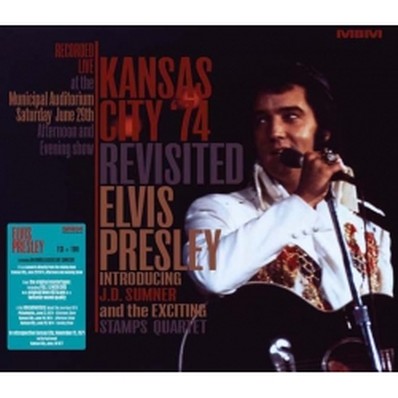 Tracklist CD 1:
June 29, 1974 – AFTERNOON performance
01. See See Rider
02. I Got A Woman / Amen
03. Love Me
04. Trying To Get To You
05. All Shook Up
06. Love Me Tender
07. Hound Dog
08. Fever
09. Polk Salad Annie
10. Why Me Lord
11. Suspicious Minds
12. Band Introductions
13. I Can't Stop Loving You
14. Help Me
15. Bridge Over Troubled Water
16. Let Me Be there
17. Funny How Times Slips Away
18. Big Boss Man
19. Steamroller Blues
20. Can't Help Falling In Love
Tracklist CD 2:
June 29, 1974 – EVENING performance
01. See See Rider
02. When My Blue Moon Turns To Gold Again
03. Blue Christmas
04. I Got A Woman / Amen
05. Love Me
06. Trying To Get To You
07. All Shook Up
08. Love Me Tender
09. Fever
10. Polk Salad Annie
11. Why Me Lord
12. Suspicious Minds
13. Band Introductions
14. I Can't Stop Loving You
15. Help Me
16. Bridge Over Troubled Water
17. Let Me Be There
18. Funny How Times Slips Away
19. Big Boss Man
20. Steamroller Blues
21. Can't Help Falling in Love
22. Closing Vamp
Tracks 18 - 22 recorded at the Omaha Civic Auditorium, Omaha NE, June 30 1974 afternoon show
Content Disc 3 (DVD): A full documentary about Elvis on tour June 1974
Featuring facts, interviews, news footage and most of all great "8 mm" film-footage from
01. Philadelphia, June 23 1974: Evening Show
02. Kansas City, June 29, 1974: Afternoon Show
03. Kansas City, June 29, 1974: Evening Show
04. "In retrospect" -- Kansas City, November 15, 1971: 8:30 pm
05. "The final farewell" -- Kansas City, June 18, 1977: 8:30 pm