Doncha' Think It's Time - A new 1958 Album.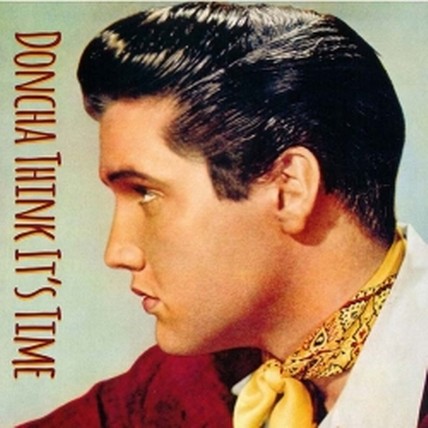 A brandnew "58" album including amazing new spliced takes and remastered masters.
On the FTD album "King Creole new mixes of the studio masters were released, these were done by Thorne Nogar and had studio snippets, like small talk and counting of to the takes, although it is nice to have it does not play as it should. Here presented for the first time are those masters without that.
Also included are some new and unreleased "spliced takes of other songs from 1958 as well as some "essential" home recordings, also edited for your listening pleasure.
The highlight of this album must be both "reversed" masters of the title track "Doncha Think It's Time" for both masters four takes were used, on this album the same four takes are used, but this time they used the parts that were not released at the time so you get two COMPLETE new versions of this great song.
Also not to be missed is the newly created version of "Ain't That Loving You Baby" which starts of with the slow version and ends with the rockin' version.
1. Doncha Think It's Time - reversed single master
2. Hard Headed Woman *
3. Trouble *
4. New Orleans *
5. Crawfish *
6. Dixieland Rock *
7. Lover Doll -
8. Don't Ask Me Why *
9. As Long As I Have You *
10. Steadfast, Loyal and True
11. King Creole *
12. Young Dreams *
13. Danny - Master
14. Your Cheatin' Heart - take 9
15. Wear My Ring Around Your Neck - undubbed master
16. A Big Hunk O' Love - spliced take 1,3,3
17. Ain't That Lovin' You Baby - spliced take 2,4,1,10,10,11,8,11,8
18. A Fool Such As I - spliced take 3,8
19. I Got Stung - spliced take 3,1,8
20. Doncha Think It's Time - reversed album master
21. Her Hand in Mine - spliced home recording
22. Are You Lonesome Tonight? - home recording
23. I Can't Help It - spliced home recording
24. I'm Beginning To Forget You - home recording
25. Apron Strings - home recording
26. He Knows Just What I Need - spliced home recording
* Live mono mixes