CALIFORNIA HOLIDAY
(The Bootleg Series)
39 ALTERNATE TAKES FROM THE SOUNDTRACK ALBUM, SONGWRITER DEMOS, RADIO SPOTS & MORE!!!
All official unreleased outtakes of the 'Spinout' soundtrack collected on one cd plus songwriter demos and all 4 original radio spots for the movie! All tracks remastered for the best sound quality.
Including a 12-pages booklet with photos and recording information... The sketches used for the artwork of this album are original continuity sketches from the MGM production 'Spinout'.
Please note that on releases like the boxset 'Stop, Look and Listen - The Ultimate Spinout Recording Sessions' a lot of material is missing like the complete take 7 of 'Stop, Look And Listen', take 6 of 'Never Say Yes', a 2nd screaming girls version of 'Down In The Alley', studio chat and radio spots. If you have the FTD version of the album 'Spinout' then this cd from Elvis One is the ultimate addition to your collection.
Track 1, 13, 14 & 15 previously unreleased on cd. Taken from the original 33 1/3 RPM 10 inch LP with 4 Radio Commercials for the movie 'Spinout'. Radio Spot Announcements were used to promote new and upcoming movies. They were not released by RCA Victor but by the movie company. These radio spot announcements were not archived by radio stations and were typically destroyed.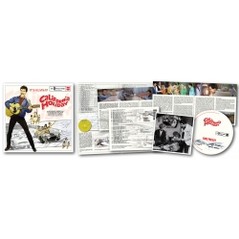 01. Spinout Radio Spot #1 0:58
02. Spinout (take 3 & 4) 1:49
03. Stop, Look And Listen (take 4, 5 & 7) 4:47
04. Never Say Yes (take 3 & 6) 2:44
05. Am I Ready (take 2) 2:49
06. Am I Ready (take 5, 6 & count-in master take 7) 5:06
07. All That I Am (take 3 & 6) 3:55
08. Smorgasbord (take 2, 3, 4, 6
& count-in master take 7) 6:33
09. Adam And Evil (take 2, 3, 4, 5 & 6) 5:47
10. Adam And Evil (take 7, 8, 9, 10 & 11) 6:36
11. Adam And Evil (take 12, 13, 15, 17, 18, 19
& count-in master take 20) 7:41
12. I'll Be Back
(movie version, drum intro & overdubs) 2:52
13. Spinout Radio Spot #2 0:59
14. Spinout Radio Spot #3 0:27
15. Spinout Radio Spot #4 0:32
16. Down In The Alley (take 5 & 8) 1:54
17. Down In The Alley (take 7) 2:29
18. Down In The Alley
(screaming girls version, take 1) 3:09
19. Down In The Alley
(screaming girls version, take 2) 3:01
20. I'll Remember You (take 1) 1:29
21. I'll Remember You (take 3) 4:08
22. I'll Remember You
(track, guide vocals by Red West) 4:09
23. Messed Up World (demo) 2:29
24. Classy Chassy (demo) 1:50
25. You Can't Win 'Em All (demo) 1:33