Elvis Sings Leiber And Stoller CD

(The original album series)
Originally released in 1980, 'Elvis Presley Sings Leiber & Stoller', a classic with all songs written by Jerry Leiber and Mike Stoller!
20 Great tracks from the original album; the first 16 tracks in mono as on the original album, the other 4 tracks are alternate versions from which 3 are officially unreleased + there are 11 bonus tracks on this cd... including the cd bonus track from 1991 (You're The Boss) in an alternate version, 2 official unreleased alternate versions from 'Just Tell Her Jim Said Hello' and tracks from the movie 'Loving You' and 'Jailhouse Rock'. A very nice compilation presented in great sound. Including a booklet with the original album artwork, photos and recording information.
Instead of the 1991 cd release (out of print for a very long time) with a colorized photo the original stunning album cover photo is used for this cd - now in great quality. A limited edition of 500 copies only.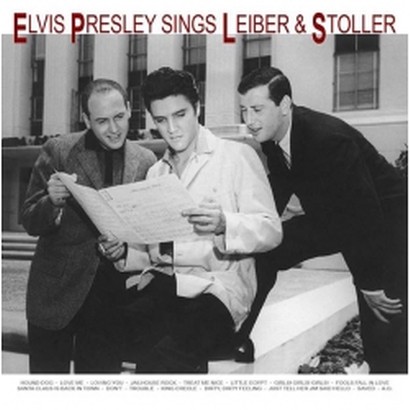 01. Hound Dog 2:19
02. Love Me 2:46
03. Loving You 2:15
04. Hot Dog 1:17
05. I Want To Be Free 2:14
06. Jailhouse Rock 2:29
07. Treat Me Nice 2:11
08. (You're So Square) Baby I Don't Care 1:53
09. Santa Claus Is Back In Town 2:26
10. Don't 2:53
11. Trouble 2:18
12. King Creole 2:10
13. Steadfast Loyal And True 1:18
14. Dirty, Dirty Feeling 1:34
15. Just Tell Her Jim Said Hello 1:53
16. Girls! Girls! Girls! 2:31
17. Little Egypt (composite movie version) 2:21
18. Fools Fall In Love (rehearsal before take 5) 1:04
19. Bossa Nova Baby (alternate take 9) 2:29
20. Saved (alternate take 6) 1:32
BONUS TRACKS
21. You're The Boss (duet with Ann-Margret, alternate take 10) 2:33
22. Loving You (main version 1, master take 3) 2:17
23. Loving You (Main version 2, fast movie version, alternate take 8 / Stereo) 1:37
24. Loving You (farm version 3, master take 12 / ) 2:05
25. Loving You (farm version 2, master take 14) 2:06
26. Loving You (main version 2, fast movie version, master take 21) 1:33
27. Jailhouse Rock (record version, composite master / Binaural) 2:32
28. Treat Me Nice (undubbed movie version, composite master / Binaural) 2:03
29. I Want To Be Free (record version / Binaural) 2:12
30. Just Tell Her Jim Said Hello (tryout) 1:06
31. Just Tell Her Jim Said Hello (alternate take 3) 2:02