6363 SUNSET - VOLUME 2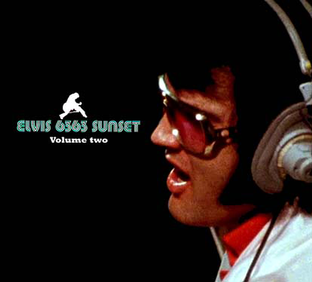 We all remember the "good old days" when FTD released their first releases like
"The Jungle Room Sessions", "Fame and Fortune" and "Out in Hollywood".
Those cds were in our players for weeks, due to all the unreleased stuff, great sound quality and last but not least the fact there were a lot of complete outtakes never heard before.
After a while, although the releases were still fantastic, we got more and more cds with lots of outtakes from the same songs, great for collecting, but listening pleasure was a bit less fun...
The second release from MTP records is out now and will be another fan favorite!
Included are some very hard to find outtakes and rehearsals recorded at RCA's Hollywood, California studios.
This time, not only do we get tracks from '72 and '75 since there are also some essential tracks from the August 16, 1974 rehearsal, where Elvis made a completely new line up for his upcoming engagement.
Also included are some rare string overdubbed versions from the May 8, 1972 session.
This new release is at least as good as the first volume and is "Meant to be Played"
TRACKS:
Separate Ways - take 4,13 (spliced with take 21)
Where Do I Go From Here - take 2
Burning Love - Rehearsal #2 (March 31,1972)
For the Good Times - take 4 (March 30,1972)
Proud Mary - Rehearsal #2 (March 31,1972)
Never Been To Spain - Rehearsal #2 (March 31,1972)
It's A Matter of Time - Brass & Strings Overdubs, May 8, 1972
Fool - Brass & Strings Overdubs, May 8th, 1972
If You Love Me Let Me Know - #3 (August 16, 1974)
Faded Love - (August 16, 1974)
Just Pretend - (August 16, 1974)
Twelfth of Never - (August 16, 1974)
Softly, As I Leave You - #2 (August 16, 1974)
Fairytale - take 2
I Can Help - Take 1,2
Susan When She Tried - take 3
Tiger Man - take 1 (jam)
Pieces of My Life - take 1
Woman Without Love - take 1 (undubbed master)
Always On My Mind - Brass & Strings Overdubs, May 8th