MEMPHIS OUTTAKES CD
Elvis' legendary Memphis recordings at the American Sound Studio.
This cd features 23 tracks that were not released on ELVIS PRESLEY - AMERICAN SOUND 1969.
More than 30 alternate takes! A great alternate collection of Elvis at his best in 1969! Enjoy this limited edition release and a great addition to the official set.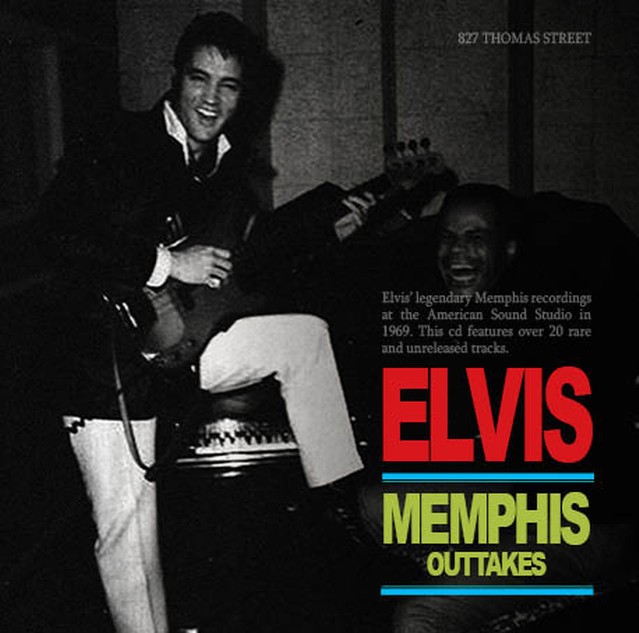 Tracklisting:
01. Come Out, Come Out (Wherever You Are) (rehearsal, medium tempo #1) 0:45
02. True Love Travels On A Gravel Road (take 3) 2:59
03. Power Of My Love (rehearsal + take 2) 2:49
04. Only The Strong Survive (rehearsal + takes 2 & 3) 5:29
05. Wearin' That Loved On Look (takes 4, 6, 7, 8, 9 & 11) 3:32
06. Do You Know Who I Am? (rehearsal + take 2) 5:26
07. If I'm A Fool (For Loving You) (takes 4 & 5) 1:48
08. From A Jack To A King (take 4) 1:49
09. Power Of My Love (takes 4, 5, 6a & 6b) 6:29
10. Long Black Limousine (take 4) 0:45
11. Only The Strong Survive (takes 4 & 5) 3:45
12. Only The Strong Survive (take 6) 3:07
13. Only The Strong Survive (take 7) 2:21
14. Only The Strong Survive (take 9) 2:35
15. Do You Know Who I Am? (take 6) 3:04
16. Do You Know Who I Am? (take 7 / undubbed unedited master) 3:21
17. True Love Travels On A Gravel Road (takes 8, 9, 10 + overdub) 5:31
18. And The Grass Won't Pay No Mind (takes 1 & 4) 2:58
19. Don't Cry Daddy (undubbed master / acetate recording) 2:54
20. Mama Liked The Roses (undubbed master / acetate recording) 2:46
21. Come Out, Come Out (Wherever You Are)
(rehearsal, slow tempo #1) 1:47
22. A Blues Jam (rehearsal) 1:05