A WHOLE LOTTA POWER GOING ON - Deluxe Digipack factory pressed release.
Over 2,5 hours of incredible cuts!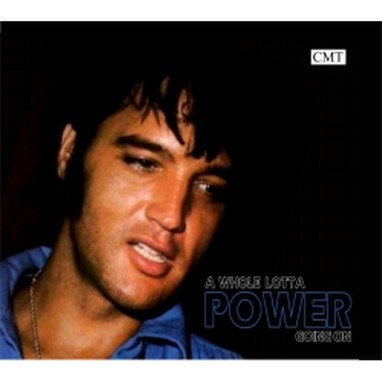 This year marks the 50th anniversary of Elvis June/September recordings in Nashville, where other labels only re-re (re) release the same over and over CMT continues their "Power" series with this third instalment, after last year's "Ghetto Power" and the first release "Stax Power" this release had to be done and might be the best one yet!
Again the editing on this album makes all songs "blend in" so you will get the feeling as if you are in the actual session, with lots of rare snippets and surprises.
All tracks from the "Nashville 1970 Sessions" have been included in this 2 cd set, with clever spliced takes for a whole new experience.
Lots of works went into this and a lot of the tracks sound so different, you almost think it is all brand new!
Because the producers wanted something really new, and wanted to start rocking from scratch! They decided not to give you a chronicle order tracklist like the previous volumes.
Just listen to the incredible new spliced version of "Patch It Up" (10!! Splices) extended versions of "There Goes My Everything" and "Bridge Over Troubled Water" and clever edits of Undubbed tracks with final masters like "Little Cabin on the Hill" and "Heart of Rome"
1970 has to be one of the best years for Elvis... you can hear it... you can SEE it, although we do agree with the "Never judge a book (cd or dvd) by it's cover" expression, seeing this cover makes you want it even more and it sure has "A Whole Lotta Power Going On!"
Disc One (Running time 1 hour 19 minutes)
Whole Lotta Shakin' Goin On - Extended Master
I Washed My Hands in Muddy Water - Complete Master, overdubbed
Cindy, Cindy - Spliced take 2,1,3,3
Got My Mojo Working/Keep Your Hands Off Of It - Unedited overdubbed master
A Hundred Years From Now - Spliced take 2,1,2
Faded Love - Country Version
The Fool - take 1,2,1
I Was Born About 10.000 Years Ago - Complete Unedited take 1
Little Cabin Home On The Hill - Spliced take 1,2
Stranger in the Crowd- take 7,9
Patch It Up - Spliced take 2,2,2,3,4,7,1,1,1,9
Faded Love - Complete Master/Country Version
It's Your Baby, You Rock It - Fs, take 3
Tomorrow Never Comes - Spliced take 3,1,2
It Ain't No Big Thing - Spliced take 3,4,6,2
Heart of Rome - fs, spliced take 2,3, wp take 1
When I'm Over You - Spliced Master
Life - Fs, Spliced take 17,1,2
Only Believe - Spliced take 1,3, rehearsal
Disc One (Running time 1 hour 15 minutes)
Twenty Days and Twenty Nights - Spliced take 2,2,3,3
I've Lost You - Take 6 (Edited)
You Don't Have To Say You Love Me - take 1,2/rehearsal
Mary in the Morning - Spliced take 1,2,4
Bridge Over Troubled Water - Spliced take 1,5
Make the World Go Away - Spliced take 1,2
The Next Step is Love - False start, take 6
How the Web Was Woven - Fs/Take 1 *
I Really Don't Want To Know - take 1 (undubbed) *
There Goes My Everything - take 1 (extended)
The Sound of Your Cry - Spliced take 2,3 (edited) *
Just Pretend - Spliced take 1,2
Sylvia - Spliced take 4,3,9 *
If I Were You - Spliced take 1,3,5,2
I'll Never Know - Spliced take 1,3
Love Letters - Spliced take 3,1
Rags To Riches - Spliced Rehearsal, take 1
Where Did They Go Lord? - Spliced take 2,3
This is Our Dance - Spliced take 6,8,8,11 *
Snowbird - Alternate Master *
Funny How Time Slips Away - Unedited Master *