Elvis Sings PLEASE RELEASE ME - AND OTHER GREAT SONGS!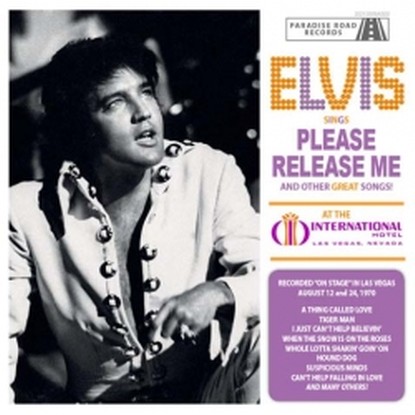 Paradise Road Records presents ELVIS SINGS PLEASE RELEASE ME - AND OTHE GREAT SONGS! at the International Hotel, Las Vegas, Nevada.
A new album with the great August 24, 1970 midnight show and a part of the pre-show of the August 12, 1970 midnight show with 'A Thing Called Love' by The Imperials.
The August 24 midnight show is an audience recording (in very good sound) not to be missed with Elvis in great mood singing parts of 'Ave Maria' and 'Spanish Eyes', a great version of 'When The Snow Is On The Roses' (with 3 false starts), the medley 'Blue Suede Shoes / Whole Lotta Shakin' Goin' On' and a great show ending when Elvis singing 'Release Me' after the first notes of 'Can't Help Falling In Love'.
This show was previously released on The Hillbilly Cat Returns from 2012 but deserves an updated release in this collection from Paradise Road Records.
The pre-show tracks by The Imperials is a nice addition taken from the MGM tapes.
Together with our 'Oh Happy Day' release this cd contains probably one of the most interesting shows from Elvis 3rd Vegas season and presented on this cd in the best possible sound!
Including a booklet with photos and recording information.
1. A THING CALLED LOVE (The Imperials)
2. ON THE OTHER SIDE (The Imperials)
3. ORCHESTRA INTRO
4. OPENING VAMP
5. THAT'S ALL RIGHT
6. I GOT A WOMAN / AVE MARIA (excerpt) /
I GOT A WOMAN
7. SPANISH EYES (excerpt)
8. TIGER MAN
9. ELVIS TALKS
10. I JUST CAN'T HELP BELIEVIN'
11. YOU'VE LOST THAT LOVIN' FEELING
12. POLK SALAD ANNIE
13. BAND INTRODUCTIONS
14. JOHNNY B. GOODE
15. CELEBRITY INTRODUCTIONS
16. WHEN THE SNOW IS ON THE ROSES (with 3 false starts)
17. CELEBRITY INTRODUCTIONS
18. THE WONDER OF YOU
19. HEARTBREAK HOTEL (with 4 false starts)
20. ONE NIGHT (with 2 breaks)
21. ALL SHOOK UP (false start only)
22. BLUE SUEDE SHOES /
WHOLE LOTTA SHAKIN' GOIN' ON
23. HOUND DOG
24. BRIDGE OVER TROUBLED WATER
25. SUSPICIOUS MINDS
26. CAN'T HELP FALLING IN LOVE
(with false start) / RELEASE ME
27. CAN'T HELP FALLING IN LOVE
BONUS TRACK
28. ORCHESTRA INTRO
Tracks 1-3 recorded on August 12, 1970, midnight show.
Track 4-28 recorded on August 24, 1970, midnight show.