You Don't Have To Say You Love Me Vol. 2
As recorded at the Hilton Hotel, Las Vegas, NV, Wednesday, February 21, 1973 DS
Label: Straight Arrow
This CD features the Wednesday, February 21, 1973 Dinner Show, which is previously uncirculated -- no known audience or soundboard recording has surfaced in over 37 years! The concert was taped by the same fan, using the same equipment and settings, who captured the February 15, 1973 Dinner Show heard on our first volume, "FADED LOVE." This means that the sound quality is just as good. However, this time around there is huge difference in Elvis' performance. Whereas "FADED LOVE" gave the listener an unusual set, as Presley was under the weather and left the stage for a stretch, here he is fully recovered and vocally strong.
"YOU DON'T HAVE TO SAY YOU LOVE" features a fairly standard repertoire for the period, but the majority of the material is performed very well. Among the highlights is a knockout performance of "What Now My Love," from false start to reprise! Other impressive numbers include "I'm Leavin'" and "You Don't Have To Say You Love Me."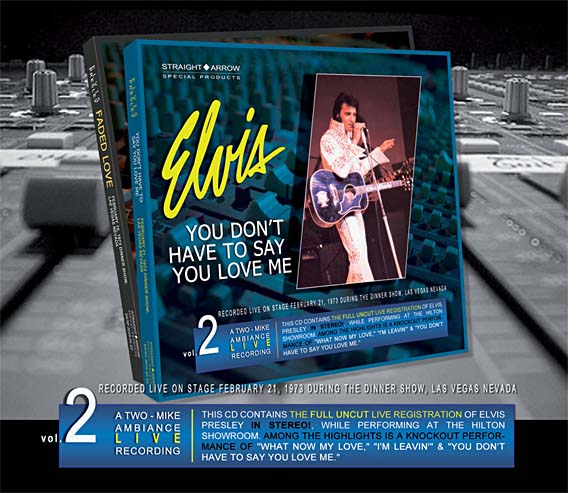 Tracks:
01. Introduction: Also Sprach Zarathustra - 02. C. C. Rider - 03. I Got A Woman / Amen - 04. Love Me Tender - 05. You Don't Have To Say You Love Me - 06. Steamroller Blues - 07. You Gave Me A Mountain - 08. Fever - 09. Love Me - 10. Blue Suede Shoes - 11. I'm Leavin' - 12. Hound Dog - 13. What Now My Love (with false start and reprise) - 14. Suspicious Minds - 15. Introduction of Vocalists, Musicians, Orchestra - 16. I'll Remember You - 17. I Can't Stop Loving You - 18. An American Trilogy - 19. Can't Help Falling In Love - 20. Closing Vamp / Announcements.