The Guitar Player Worth A Damn - The King In Motion Vol. 4
VENUS PRODUCTIONS is back with a new release!
This release contains the previously unreleased April 14, 1972 Afternoon Show as recorded in Greensboro and the April 9, 1972 Hampton Roads show presented in a brand new alternate mix featuring out-takes from 'Elvis On Tour' in 'better than ever quality' than ever before.

https://www.youtube.com/watch?v=eIbhfowzL1w&feature=youtu.be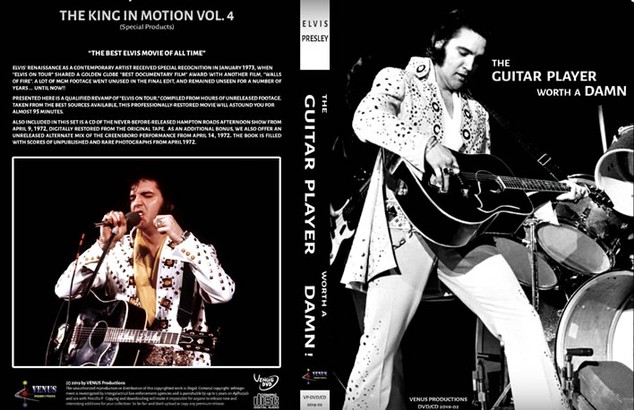 Track listing DVD
Intro - Johnny B. Goode (Rehearsal)
Always On My Mind (Rehearsal)
Big Hunk O' Love (Rehearsal)
Burning Love (Rehearsal)
Heartbreak Hotel (Rehearsal)
Hound Dog (Rehearsal)
I, John (Rehearsal)
Bosom Of Abraham (Rehearsal)
Mystery Train (Montage)
Interviews / Backstage
Also Sprach Zarathustra
See See Rider (April 18, 1972)
Love Me (April 9, 1972 ES)
Until It's Time For You To Go (April 14, 1972)
Release Me (April 14, 1972)
A Big Hunk 'O Love (April 14, 1972)
Burning Love (April 14, 1972)
For The Good Times (April 9, 1972 ES)
How Great Thou Art (April 9, 1972 ES)
Bridge Over Troubled Water (April 14, 1972)
Funny How Time Slips Away (April 14, 1972)
An American Trilogy (April 14, 1972)
Can't Help Falling In Love (April 9, 1972)
Closing Vamp / Announcements
For The Good Times - End Credits
Interview With George Klein - Bonus
Interview With Vernon Presley - Bonus
Interview With Elvis - Bonus
Rehearsal, April 5, 1972 - Bonus
Track listing CD 1 – Greensboro, April 14, 1972
01 Also Sprach Zarathustra
02 See See Rider
03 Proud Mary
04 Never Been To Spain
05 You Gave Me A Mountain
06 Until It's Time For You To Go
07 Polk Salad Annie
08 Love Me
09 All Shook Up
10 Teddy Bear / Don't Be Cruel
11 Hound Dog
12 Heartbreak Hotel
13 A Big Hunk O' Love
14 Bridge Over Troubled Water
15 Suspicious Minds
16 Love Me Tender
17 Band Introductions
18 For The Good Times
19 American Trilogy
20 Burning Love
21 Release Me
22 Funny How Time Slips Away
23 Can't Help Falling In Love /
Closing Vamp
Track listing CD 2 – Hampton Roads AS, April 9, 1972:
01 Also Sprach Zarathustra
02 See See Rider
03 Proud Mary
04 Never Been To Spain
05 You Gave Me A Mountain
06 Until It's Time For You To Go
07 Polk Salad Annie
08 Love Me
09 All Shook Up
10 Teddy Bear / Don't Be Cruel
11 Jailhouse Rock
12 One Night
13 Hound Dog
14 Help Me Make It Through The Night
15 Bridge Over Troubled Water
16 Love Me Tender (+ 1 false start)
17 Suspicious Minds
18 Band Introductions
19 An American Trilogy
20 Heartbreak Hotel
21 For The Good Times
22 How Great Thou Art
23 Lawdy Miss Clawdy (incomplete)
24 A Big Hunk Of Love
25 Funny How Time Slips Away
26 Can't Help Falling In Love /
Closing Vamp
(This show is previously unreleased)