One of the best Japanese CD-boxes ever. You get here the complete single collection from the beginning till the end. The soundquality of each CD is perfect. At Amazon for 649,99 !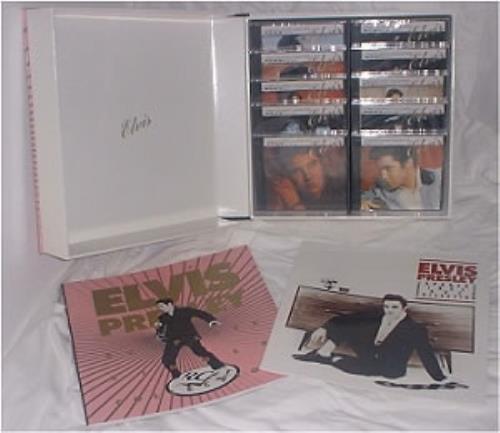 Tracklisting CD 1: 1.My happiness 2.That's when your heartaches begin 3.I'll never stand in your way 4.It wouldn't be the same without you 5.That's all right 6.Blue moon of Kentucky 7.Good rockin' tonight 8.I don't care if the sun don't shine 9.Milkcow blues boogie 10.You're a heartbreaker 11.Baby let's play house 12.I'm left, you're right, she's gone 13.I forgot to remember to forget 14.Mystery train 15.Heartbreak hotel 16.I was the one 17.I want you, I need you, I love you 18.My baby left me 19.Don't be cruel 20.Hound dog 21.Blue suede shoes 22.Tutti frutti 23.I got a woman 24.I'm counting on you 25.I'll never let you go 26.I'm gonna sit right down and cry over you 27.I love you because 28.Trying to get to you.
Tracklisting CD 2: 1.Just because 2.Blue moon 3.Money honey 4.One-sided love affair 5.Shake, rattle and roll 6.Lawdy miss clawdy 7.Love me tender 8.Anyway you want me 9.Too much 10.Playing for keeps 11.All shook up 12.That's when your heartaches begin 13.Teddy bear 14.Loving you 15.Jailhouse rock 16.Treat me nice 17.Don't 18.I beg of you 19.Wear my ring around your neck 20.Doncha think it's time 21.Hard headed woman 22.Don't ask me why 23.One night 24.I got stung 25.A fool such as I 26.I need your love tonight 27.A big hunk O'love 28.My wish came true.
Tracklisting CD 3: 1.Stuck on you 2.Fame and fortune 3.It's now or never 4.A mess of blues 5.Are you lonesome tonight 6.I gotta know 7.Surrender 8.Lonely man 9.I feel so bad 10.Wild in the country 11.His latest flame 12.Little sister 13.Can't help falling in love 14.Rock-A-hula-baby 15.Good luck charm 16.Anything that's part of you 17.She's not you 18.Just tell her Jim said hello 19.Return to sender 20.Where do you come from 21.One broken heart for sale 22.They remind me too much of you 23.Devil in disquise 24.Please don't drag that string around 25.Bossa nova baby 26.Witchcraft.
Tracklisting CD 4: 1.Kissin' cousins 2.It hurts me 3.Kiss me quick 4.Suspicion 5.What'd I say 6.Viva Las Vegas 7.Such a night 8.Never ending 9.Ask me 10.Ain't that loving you baby 11.Blue christmas 12.Wooden heart 13.Do the clam 14.You'll be gone 15.Crying in the chapel 16.I believe in the man in the sky 17.Easy question 18.It feels so right 19.I'm yours 20.Long lonely highway 21.Puppet on a string 22.Santa claus is back in town 23.Tell me why 24.Blue river.
Tracklisting CD 5: 1.Joshua fit the battle 2.Known only to him 3.Milky white way 4.Swing down, sweet chariot 5.Frankie and Johnny 6.Please don't stop loving me 7.Love letters 8.Come what may 9.Spinout 10.All that I am 11.If every day was like christmas 12.How would you like to be 13.Indescribably blue 14.Fools fall in love 15.Long legged girl 16.That's someone you never forget 17.There's always me 18.Judy 19.Big boss man 20.You don't know me 21.Guitar man 22.High heel sneakers 23.U.S.Male 24.Stay away.
Tracklisting CD 6: 1.You'll never walk alone 2.We call on him 3.You're time hasn't come yet, baby 4.Let yourself go 5.A little less conversation 6.Almost in love 7.If I can dream 8.Edge of reality 9.Memories 10.Charro 11.His hand in mine 12.How great thou art 13.In the ghetto 14.Any day now 15.Clean up your own backyard 16.The fair is moving on 17.Suspicious minds 18.You'll think of me 19.Don't cry daddy 20.Rubberneckin' 21.Kentucky rain 22.My little friend.
Tracklisting CD 7: 1.The wonder of you 2.Mama liked the roses 3.I've lost you 4.The next step is love 5.You don't have to say you love me 6.Patch it up 7.I really don't want to know 8.There goes my everything 9.Rags to riches 10.Where did they go, Lord 11.Life 12.Only believe 13.I'm leavin' 14.Heart of Rome 15.It's only love 16.The sound of your cry 17.Merry christmas baby 18.O come, all ye faithfull 19.Until it's time for you to go 20.We can make the morning 21.He touched me 22.Bosom of Abraham 23.An American trilogy 24.The first time ever I saw your face.
Tracklisting CD 8: 1.Burning love 2.It's a matter of time 3.Separate ways 4.Always on my mind 5.Steamroller blues 6.Fool 7.Raised on rock 8.For ol' times sake 9.I've got a thing about you baby 10.Take good care of her 11.If you talk in your sleep 12.Help me 13.Promised land 14.It's midnight 15.My boy 16.Thinking about you 17.T-R-O-U-B-L-E 18.Mr. Songman 19.Bringing it back 20.Pieces of my life 21.Hurt 22.For the heart 23.Moody blue 24.She thinks I still care 25.Way down 26.Pledging my love.
Tracklisting CD 9: 1.My way 2.America the beautiful 3.Unchained melody 4.Softly as I leave you 5.Are you sincere (undubbed version) 6.Solitaire (undubbed version) 7.There's a honky tonk angel (undubbed version) 8.I got a feelin' in my body (undubbed version) 9.Guitar man (remaked version) 10.Faded love (remaked version) 11.Loving arms (remaked version) 12.You asked me to (remaked version) 13.The Elvis medley: Jailhouse rock-Teddy bear-Hound dog-Don't be cruel-Burning love-Suspicious minds 14.I was the one (overdubbed version) 15.Wear my ring around your neck (overdubbed version) 16.Little sister (overdubbed version) 17.Paralyzed (overdubbed version) 18.Baby, let's play house ('56, live version) 19.Hound dog ('56, live version) 20.Always on my mind (overdubbed version) 21.My boy (overdubbed version).
Tracklisting CD 10: 1.Love me 2.When my blue moon turns to gold again 3.Paralyzed 4.Old shep 5.Poor boy 6.Peace in the valley 7.Lonesome cowboy 8.Mean woman blues 9.Have I told you lately that I love you 10.Young and beautiful 11.King creole 12.Crawfish 13.G.I.Blues 14.Pocketful of rainbows 15.Flaming star 16.Blue hawaii 17.Follow that dream 18.Angel 19.I got lucky 20.King of the whole wide world 21.Girls, girls, girls 22.Fun in Acapulco 23.Girl happy 24.I'll remember you 25.Polk salad annie 26.I just can't help believin' 27.The impossible dream.