THE 1971 SOUNDBOARD COLLECTION & MORE
featuring all known soundboard recordings plus the essential rare & alternate 1971 studio recordings.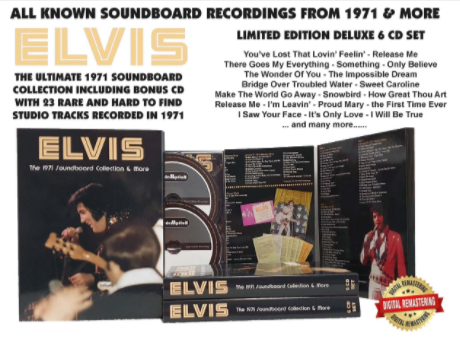 This deluxe 6 CD set features recordings from 6 shows recorded during the first Vegas season plus one tour show recorded in Boston Massachusetts.
The first Vegas season of 1971 started on January 26 and finished February 23. During these shows Elvis sang some of the tracks from the just released "Elvis Country" album. Examples are "Make The World Go Away" "There Goes My Everything" and "Snowbird". All shows are presented as they were recorded: in glorious original mono sound.
In 1971 Elvis' record company released three completely new studio albums, five 45 RPM singles, three Camden budget albums and one compilation box set. A highlight on this set is the only known live version of the (at the time) new song "only believe". A studio version would be released in June 1971 on the "Love Letters From Elvis" album, but the song was recorded a year earlier. The fully packed bonus section included in this set contains not less than 25 rare and official unreleased versions of studio tracks recorded in 1971. This disc features unedited masters, unreleased mono masters and further unedited recordings & alternate takes. The mono masters, like all of the tracks on this box set, are a huge improvement over previous releases. They never sounded better.
The (officially) unreleased version of "The First Time Ever I Saw Your Face," initially recorded as a duet with Ginger Holladay, who was there during the sessions with her sister Mary to provide backup vocals, is another highlight on this bonus disc. There are three additional versions of this great song featured as well.
Get this ultimate deluxe edition while it's still available; it'll round up your collection, along with the official deluxe album releases and the recent 1971 Nashville release.
DISC 1
January 26, 1971 Opening Show
01 Also Sprach Zarathustra
02 That's All Right
03 Mystery Train – Tiger Man
04 Elvis Talks
05 Love Me Tender
06 Johnny B. Goode
07 Introductions
08 The Wonder Of You
09 Introduction Of Hal Wallis
10 Can't Help Falling In Love
11 Make The World Go Away
12 Something
DISC 2
January 27, 1971 Midnight Show
13 Also Sprach Zarathustra
That's All Right
You Don't Have To Say You Love Me
Love Me Tender
There Goes My Everything
Sweet Caroline
You've Lost That Lovin' Feelin'
Polk Salad Annie
Coming Home Baby (Instrumental)
Only Believe
Elvis Talks
How Great Thou Art
Introductions
Johnny B. Goode
The Wonder Of You
Something
Make The World Go Away
Love Me
One Night
Blue Suede Shoes
Hound Dog
Bonus:
Johnny B. Goode - Unfixed
January 26-,1971 Opening Show
DISC 3
January 29, 1971 Dinner Show
Las Vegas, Nevada
01 Also Sprach Zarathustra
02 That's All Right
03 I Got A Woman
04 Love Me Tender
05 You Don't Have To Say You Love Me
06 Sweet Caroline
07 You've Lost That Lovin' Feelin'
08 Polk Salad Annie
09 Introductions
10 Johnny B. Goode - James Burton Intro
11 Introductions
12 Something
13 Heartbreak Hotel
14 Blue Suede Shoes
15 Teddy Bear
16 Hound Dog
17 Snowbird
18 The Impossible Dream
DISC 4
February 23, 1971 Closing Show
Las Vegas, Nevada
01 Also Sprach Zarathustra
02 That's All Right
03 I Got A Woman - By The Time I Get To Phoenix
04 Love Me Tender (Intro) - Love Me
05 Mystery Train - Tiger Man
06 Sweet Caroline
07 You've Lost That Lovin' Feelin'
08 Polk Salad Annie
09 Something
10 Johnny B. Goode - James Burton Intro
11 How Great Thou Art
12 Don't Be Cruel
13 Heartbreak Hotel
14 Blue Suede Shoes
15 Bridge Over Troubled Water
16 Little Sister - Get Back
17 Hound Dog
18 Suspicious Minds (spliced)
19 The Impossibe Dream
20 Closing Vamp
January 28 1971 Dinner Show
DISC 5
November 10, 1971
Boston, Massachusetts
01 Also Sprach Zarathustra
02 That's All Right
03 I Got A Woman - Amen
04 Proud Mary
05 You Don't Have To Say You Love Me
06 You've Lost That Lovin' Feelin'
07 Polk Salad Annie
08 Coming Home Baby (Intrumental)
09 Love Me
10 Heartbreak Hotel
11 Blue Suede Shoes
12 One Night
13 Hound Dog
14 How Great Thou Art
15 Introductions
16 I'm Leavin'
17 Bridge Over Troubled Water
18 I Can't Stop Loving You
19 Love Me Tender
20 Suspicious Minds
21 Coming Home Baby (Instrumental)
22 Funny How Time Slips Away
23 Can't Help Falling In Love
24 Closing Vamp
Bonus:
25 Early Mornin' Rain - Vibes Overdub Master
26 That's What You Get For Lovin' Me - Take 10 (Unedited)
DISC 6
01 Help Me Make It Through The Night
Unedited Overdubbed Master
02 Until It's Time For You To Go
Unedited Overdubbed Master
03 I Will Be True
Unedited Master
04 It's Still Here
Unedited Master (Extra Dialogue)
05 I'm Leavin'
Unedited Overdubbed Master
06 We Can Make The Morning
Unedited Overdubbed Master
07 It's Only Love
Unedited Overdubbed Master
08 Love Me, Love The Life I Lead
Unedited Overdubbed Master
09 Until It's Time For You To Go
Mono Master
10 He Touched Me
Mono Master
11 I'm Leavin'
Mono Master
12 We Can Make The Morning
Mono Master
13 It's Only Love
Mono Master
14 Bosom Of Abraham
Mono Master
15 The First Time Ever I Saw Your Face
Mono Master
16 The First Time Ever I Saw Your Face
Duet With Ginger Holladay – Take 12 (Unused Master)
17 The First Time Ever I Saw Your Face
Unedited Overdubbed Master
18 The First Time Ever I Saw Your Face
Duet With Temple Riser
19 O Come, All Ye Faithful
Mono Master
20 Merry Christmas Baby
Mono Master
21 Merry Christmas Baby
This Is Elvis Overdubbed Version
22 The Wonderful World Of Christmas
Binaural Mix
23 Silver Bells
Take 3