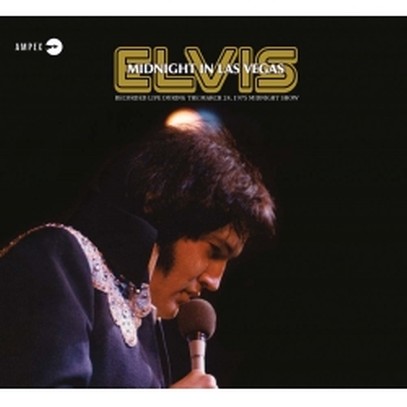 Ampex is back with a brand new unreleased performance, our follow up to ''You Know, My Bass Man Is Bound To Die'' here comes the second performance that day on the brand new ''Midnight In Las Vegas'' featuring the midnight show on March 24th 1975.
As everybody knows the concerts Elvis gave during his March/April season in las Vegas was a very strong one, there were no weak performances and every show was sold out with Elvis giving a committed performance while introducing some brand new material recorded earlier that month in the studio and wearing some stunning new two-piece outfits. This was a very different Elvis and the setlist reflected that, more often then not Elvis would only perform 2 or 3 of his classics during this season and he mostly relied on new material along with material introduced about a year earlier.
During this concert Elvis performs great versions of ''Promised Land'' ''Fairytale'' ''It's Midnight'' ''My Boy'' ''I'll Remember You'' ''Hawaiian Wedding Song'' and Interestingly David Briggs decided to play a different solo on this night playing an instrumental version of ''T-R-O-U-B-L-E'' a song that wouldn't be added to the setlist until the following tour, we even have Elvis going ''Say hey!'' during this short solo.
Elvis also introduces the legendary disc jockey, actor and musician ''Wolfman Jack'' which Elvis mentions that he's known him for a long time and that they'd been watching each other for years and that Jack had been hosting ''The Midnight Special'' (which ran from 1973 to 1981).
This release comes in a single digipack which contains some stunning photos from this season and you don't want to miss this release.
To get a preview of the release be sure to ask for a sample at your favorite Elvis dealer.
01. Also Sprach Zarathustra
02. See See Rider
03. I Got A Woman / Amen
04. Love Me
05. If You Love Me (Let Me Know)
06. And I Love You So
07. Big Boss Man
08. It's Midnight
09. Promised Land
10. Fairytale
11. Introductions - What'd I Say
12. Drum Solo (By Ronnie Tutt)
13. Bass Solo (By Duke Bardwell)
14. Piano Solo (By Glen D. Hardin)
15. T-R-O-U-B-L-E (Short instrumental by David Briggs)
16. School Day
17. Introduction of ''Wolfman Jack''
18. My Boy
19. I'll Remember You
20. My Heavenly Father (By Kathy Westmoreland)
21. Let Me Be There (With false start and reprise)
22. Teddy Bear / Don't Be Cruel
23. Hound Dog
24. Hawaiian Wedding Song
25. Dialogue
26. Can't Help Falling In Love / Closing Vamp