FUN IN ACAPULCO - SPLICED TAKES SPECIAL
"I Think I'm Gonna Like this release..."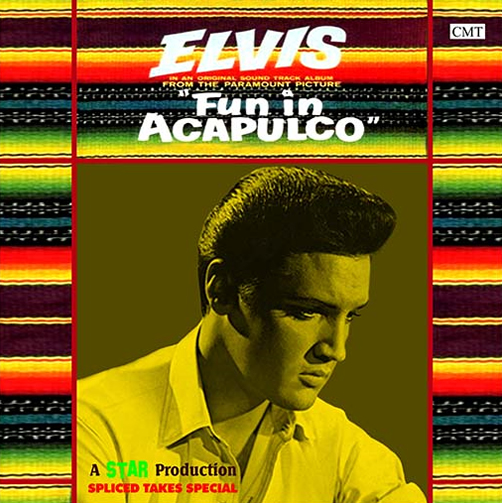 Last years "Viva Las Vegas" release was a real winner and included lots of new and fresh sounding tracks with cool edits.
This release is no different and will surprise you with a great new soundtrack which includes 13 (!!) new and unreleased spliced takes.
Almost all tracks have a longer running time due to clever use of different takes.
The title track has been re-edited and sounds like a complete new take! The same goes for "Rhumba in a Sports Car" which has also been extended.
"Bossa Nova Baby" rocks like never before due to the use of 5 different takes!
"I Think I'm Gonna Like It Here" and "Bullfighter" include record and movie version, both unreleased in this format!
"No one's in a hurry.." Well... you should be since this one is limited to 500 copies it will be sold out soon!
TRACKS:
Fun in Acapulco - Alternate re-edited master
Vino, Dinero Y Amor - Spliced take 1,3
Mexico - Spliced take 3,4,6
El Toro - Spliced take 1,2
Marguerita - Spliced take 7,3,5,6
The Bullfighter Was A Lady - Spliced take 2,3
No Room To Rhumba In A Sports Car - Extended version
I Think I'm Gonna Like It Here - Spliced take 8,9,10
Bossa Nova Baby - Spliced take 7,8,10,6,9,8
You Can't Say No In Acapulco - take 1,2,3,4
Guadalajara - Alternate Master
I Think I'm Gonna Like It Here - Spliced take 14,15
The Bullfighter Was A Lady - Spliced take 12,14
Malaguena - take 1