ELVIS: SOLD OUT!
The Rex Martin 8mm Collection Vol. 1 (2 DVD-set)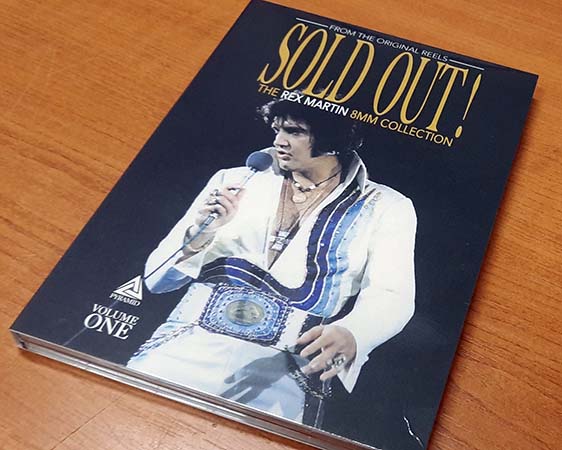 Have you ever wondered what it would have been like to experience amazing shows like the two Nassau Coliseum concerts on July 19th, 1975? Or even controversial shows like College Park '74? Good news for all fans of rare Elvis footage, because we have just obtained the complete Rex Martin 8mm footage collection, and plan to release it all over the next months. Much of this footage is superb quality, with amazing action clips and fantastic close-ups. This is as close as it gets to experiencing the man in concert!
Our first release is "Sold Out! The Rex Martin 8mm Collection volume 1", a 2 DVD-set that contains THREE hours of rare 8mm footage, most of it never released before. All from the original tapes, raw and unedited, everything just as it was originally recorded. We decided to release this footage as is, without any editing, for historical purposes.
There are many amazing, lovely, cool, funny and GREAT moments on this release: Elvis using his guitar like a bayonet during 'C.C. Rider' in Uniondale '75, singing a rare 'Shake, Rattle & Roll' during the rock medley in '73, and much, much more. This is the REAL Elvis, captured live during tours from '70 to '76.
Support this release and we will finally open the floodgates for rare & amazing footage. This is a release from fans to fans. We could have included an expensive book to make more money, but we just wanted to make this material available in the most affordable way possible. Hence this 2DVD-set that's absolutely filled with rare 8 mm footage.
Pyramid Records (UK)