ELVIS SINGS DOUBLE TROUBLE
The Gold Standard label presents 'Elvis Sings Double Trouble'.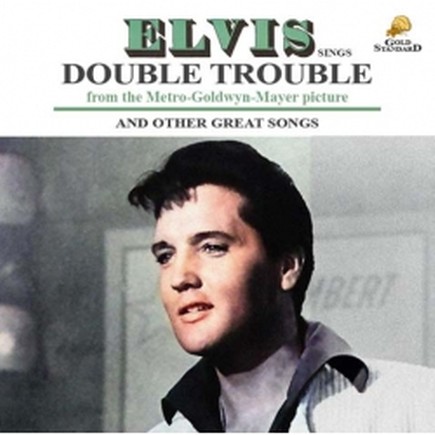 A new cd from our movie series. Including all the masters for the movie in great Binaural sound, some alternate versions, demo versions (Incl. an alternate title song and 2 unused songs), movie versions (incl. the more than 3 minutes movie version of 'I Love Only One Girl' with lots of overdubs especially done for the movie), a radio spot and as a bonus a rare acetate recording of 'There's So Much World To See'.
A great addition to the official releases with all known "alternate" recordings collected on one great cd! As all releases from the Gold Standard label this is a very limited edition release.
01. 'Double Trouble' radio spot
02. Double Trouble (binaural master)
03. Baby, If You'll Give Me All Your Love (binaural master / without backing vocals)
04. Could I Fall In Love (binaural master)
05. Long Legged Girl (With The Short Dress On) (binaural master)
06. City By Night (binaural master)
07. Old MacDonald (binaural master)
08. I Love Only One Girl (binaural master)
09. There's So Much World To See (binaural master)
10. It Won't Be Long (binaural master)
11. Could I Fall In Love (harmony vocal overdub)
12. Could I Fall In Love (harmony vocal only)
13. City By Night (track / take 3)
14. Old MacDonald (track / take 7)
15. Old MacDonald (vocal overdub)
16. Main Title / Double Trouble (movie opening / including score)
17. I Love Only One Girl (movie version / including score)
18. Double Trouble (demo / alternate title song)
19. Just You Wait And See (demo / not used)
20. Could I Fall In Love (demo)
21. Please Stay Out Of My Dreams (demo / not used)
22. There's So Much World To See
(record version - transfer / acetate)
23. Old MacDonald (vocal only)